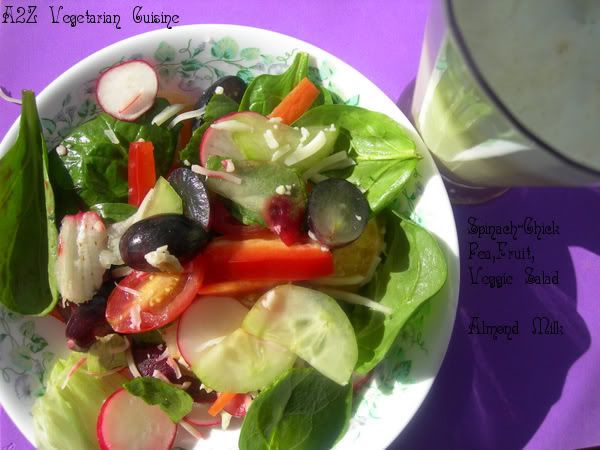 During school days, my kids have to be woken up really hard. But in the week ends, they get up by themselves earlier than school days and we are all up and running early in the morning. My husband sits with them and make them do little yoga and exercise and i am off to the kitchen making an elaborate breakfast for the special Sunday. So we have full breakfast and lunch(in fact a little elaborate than the weekdays) on the week ends too. But unusually i ended up having brunch on a Sunday morning few months back. This salad i prepared for brunch on one of those Sunday's for myself when my husband was travelling out of country and my elder one had gone to his friend's place for a sleep over and stay. Only me and my younger one were at home, lazing around we both read for some time, watched tv for some time. Being a picky eater i had prepared things which my younger one normally eats and for me i had a little bit of everything in my refrigerator. Little lazy to cook just for me, i prepared this healthy & filling salad.

Know what you Eat - Spinach is an excellent source of vitamin C and vitamin A, Spinach is also an excellent source of folate. Folate is needed by the body to help convert a potentially dangerous chemical called homocysteine that can lead to heart attack or stroke if levels get too high, into other benign molecules. In addition, spinach is an excellent source of magnesium, a mineral that can help to lower high blood pressure and protect against heart disease as well. Chick Pea(Garbanzo) are a good source of Protein, folate and also contain the following minerals Calcium, Iron, Potassium and Magnesium. Eating diets rich in fresh vegetables help in weight loss and are good for people with diabetes and for the healthy people to remain active throughout the day. Source - Whfoods & Nutritiondata.

Preparation Time - 15 mins
Cooking Time - none
Serves - 2



Ingredients
Spinach - 1/2 bag(I had half of 5 oz bag)
Cooked Chick pea - 3/4 th cup
Iceberg lettuce - 1/2 cup(chopped)
Carrot - 1(Peeled & cut into thin strips)
Beet root - 1(small)
Cherry tomatoes - 10(cut into half)
Black grapes - 10(cut into half)
Red raddish - 5(cut into thin slices)
Cucumber - 1/2(cut into thin slices)
Orange - 1/2(cubed)
Red bell pepper - 1/4 (cut into thin slices)
Toasted walnuts - handful
Shredded Cheese(vegetarian) - handful
Dressing
Extra virgin olive oil - 1 tbsp + 1/2 tsp
Orange juice - 1 tsp
lemon juice - 1 tsp
Salt - 1/2 tsp or to taste
Freshly ground black pepper - 1/2 tsp or to taste

Method


1) Peel the beetroot and cut into small cubes, add 1/2 tsp of olive oil and put in a toaster for 2-3 minutes.
2) Remove it and once cooled, add the spinach, lettuce, chick peas, carrots, raddish, cucumber, grapes, tomatoes, orange, bell pepper strips, toasted walnuts and cheese.
3) Whisk all of the dressing ingredients together and add it to the salad ingredients and serve.
4) I had this salad with Almond milk and believe it, this is a very nutritious and filling lunch.