Know What You Eat: My First upside down cake..I always wanted to make an upside down cake and when I saw this recipe, it sounded interesting. Also, this happens to be an egg less one. Now don't you believe that everything happens for a reason ;)? I got lot of pineapples from framers market the other day, thinking I will juice it everyday, up till 2 days we enjoyed fresh pineapple and sometimes combo juices, then my older one started to complain "I am not drinking anymore,you know how they are if the same juice was packed in a nice colorful carton, oh he will drink juice instead of water....anyways so I thought I got the chance to make a fancy cake..shhhh I know this has all the ingredients my family is not too use to....The cake was moist and soft & the flavor was just perfect. when it cooled down, and I had a piece and it was just the right flavor. You can also enjoy the same cake recipe for cupcakes having small chunks inside the cake mixture, oh that will taste divine...or simple a slice of this cake with a dollop of vanilla ice-cream..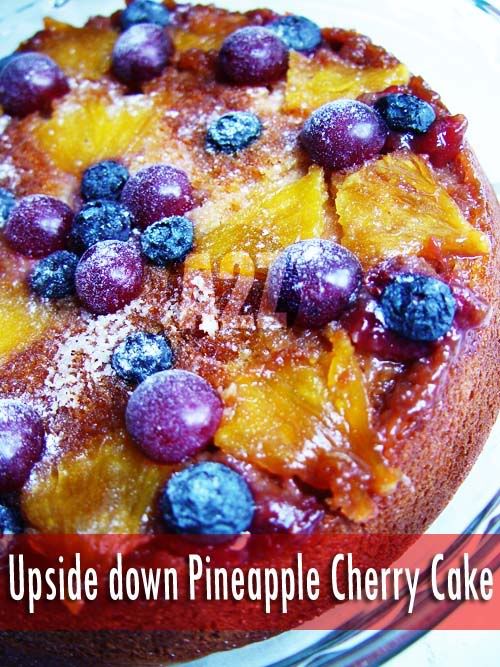 Upside down Pineapple Cherry Cake
Recipe
Recipe source: Nestle Milkmaid Recipes
Ingredients
6 Pineapple Slices, canned (I used fresh)

5-6 Tbsp Sugar for caramelisation

1 Tbsp Water

1/2 Stick Butter, soften at room temperature

1 tin (400) Milkmaid (Sweetened Condensed Milk)

2 C All purpose flour

1 tsp Baking Powder

1 tsp Soda Bicarbonate

3/4 C Aerated soda

½ tsp Pineapple Essence
For Garnishing
Fresh/Canned Cherries – few
Couple of Blueberries (optional)
Directions:
Preheat the oven at 180º C/ 350 F/ 155º C (for fan assisted oven), 10 mins before baking.

Grease a 9" round cake tin with butter. Arrange the pineapple slices at the base of the tin.

Add water to sugar & heat it in a pan till it melts and becomes brown.

Pour hot caramel onto the pineapple slices and leave aside.

Add Milkmaid to the softened butter and beat well.

Add pineapple essence to this & mix well.

Sieve together flour, baking powder and soda bicarbonate. Keep aside.

Add flour & soda to the Milkmaid mixture, alternatively, starting & ending with the flour.

Repeat the process till the flour & soda is used completely. Pour batter into the prepared cake tin and bake at 350F for 35 to 40 minutes in the preheated oven. Remove from oven, loosen sides of cake using a knife and immediately turn onto a plate.
Notes:
Do not allow Pineapple upside-down cake to cool before removing from the tin.The caramelized sugar hardens and results in the cake sticking to the tin .

The cake batter should be used for baking immediately after mixing the ingredients. If the batter is allow to stand, it loses its lightness.

You can also add few pineapple chunks in the cake batter before baking, it tastes awesome.