Know What U Eat:

This moist treat is one divine way to eat carrots with whole wheat, as it has the long-lasting moistness of a buttermilk and the fiber-rich texture of whole wheat flour, and its rich combination of spices, fruit and nuts is the perfect way to enjoy this healthy yet yummy, Carrot Raisin Cake. Here's how I made this.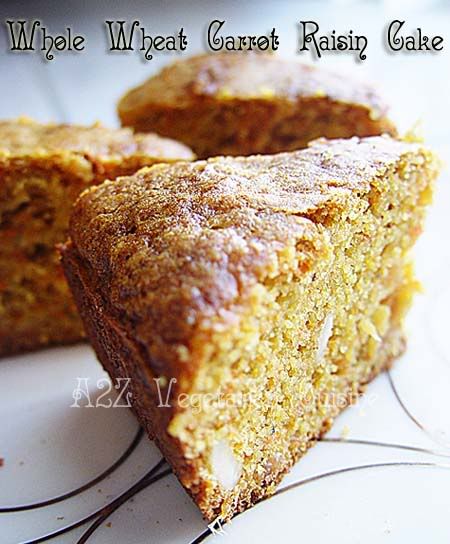 2 C Whole Wheat flour (can be easily replaced by all purpose flour)
2 tsp Baking Powder (aluminum free)
1/4 C sugar, add more if you like sweeter;
3/4 C firmly packed brown sugar
1 C buttermilk (yogurt+water)
1-1/2 tsp. vanilla extract
2 C Carrots, peeled and grated
1 C. chopped walnuts/cashew
1. Combine all the dry ingredients, in a medium bowl; set aside.
2. Combine sugars, buttermilk, vegetable oil, vanilla extract,in a large bowl; stir until all ingredients are well blended. Add this to the flour mixture, along with carrots,walnuts,and raisins,while adding milk and stirring just until well blended.
3. Grease cake pan (8 inch) square/round cake pan. Pour this batter and bake it for 30 minutes or until a wooden pick inserted in center comes out clean. Cool the cake pan 10 minutes; loosen cake layers from edges of pans with a sharp knife and invert onto wire racks. Enjoy warm or cold with a dollop of vanilla ice-cream or milk.