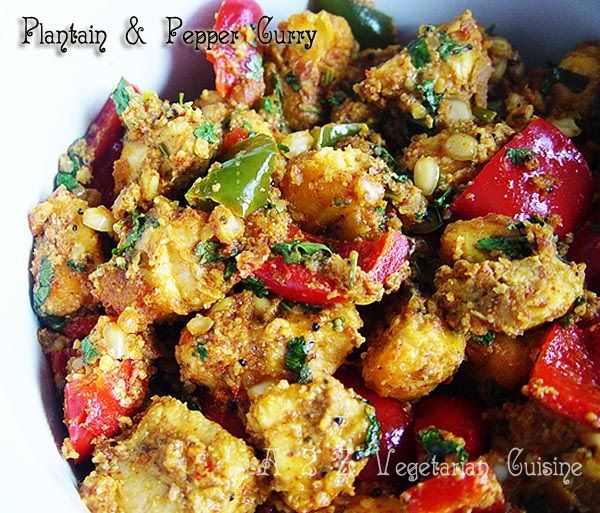 Preparation time: 10 mins
Cooking time: 15 mins
Serves: 2-3 (side dish with Roti)
Ingredients:
2 C Plantain (cooking banana slightly riped), boiled, peeled
2 C Mixed Color Bell pepper (red, green, orange, yellow), diced
1 C Roasted Peanuts, roughly chopped
1/2 tsp Red chilli powder
1 tsp Coriander-cumin powder
Few pinches of Asafoetida powder
Chopped Coriander leaves, as you prefer
1. On a medium flame, heat oil, add mustard seeds, once it splutters add all the rest of the seeds, asafoetida, then add boiled diced plantain, cover lid to cook faster for a while..stir it as well.
2. Now add diced peppers and peanuts, and add all the seasonings..red chilli, turmeric, coriander-cumin, garam masala, salt, stir well..cook for a while but do not over cook.
3. Garnish it with coriander leaves and serve hot as a side dish with Roti (indian flat bread).