Know What You Eat:
Carrot are full of Vitamins, dietary fiber and healthy levels of minerals like copper, calcium, potassium, manganese and phosphorus, and also best known for their rich supply of the antioxidant nutrient called beta-carotene, which converts in Vitamin A in the liver.Most of you are aware of "
Gaajar Halwa
", this kheer is something similar but without lot of sugar in it. Addition of cashew and cardamom gives nutrition and very good flavor. Cashew Carrot Kheer is prepared mostly in winters at my home, with
WholeWheat & Almond Halwa
, &
Methi Paak.
Try Cashew Carrot Kheer for a sweet warm morning. Here is a quick recipe for Cashew Carrot Kheer.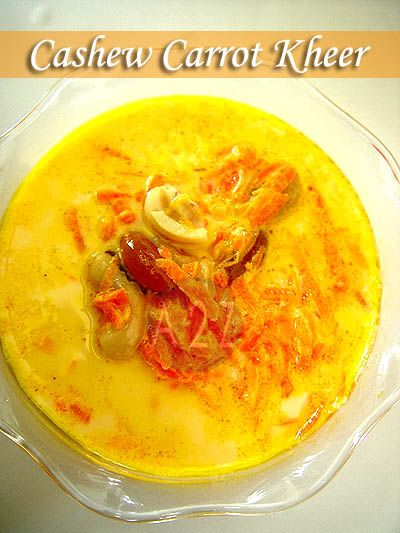 Ingredients:
1 C Carrots, shredded
2 C Milk
1/4 C Cashew, substitute almonds, pistachios or mixed nuts.
1/4 C Jaggery OR Honey
1/4 tsp Cardamom powder
1 tsp Ghee (clarified butter)(optional)
Heat ghee in a heavy bottom wok. Add cashew and stir until golden brown.
Add shredded carrots, jaggery and milk.Stir occasionally.
Boil and reduce milk until carrots are cooked.
Add cardamom powder once done and serve warm in breakfast.