A

very

Happy

Holi

to all our readers, from Muskaan & Sadhana..

Holi

, the festival of colors, is celebrated with great pomp and show in India.Its undoubtedly the most fun-filled and boisterous of Hindu festival. It's an occasion that brings in unadulterated joy and mirth, fun and play, music and dance, and, of course, lots of bright colors! Squirting colored water on passers-by, dunking friends in mud pool amidst teasing and laughter, getting intoxicated on bhaang and reveling with companions is perfectly acceptable. In fact, on the days of Holi, you can get away with almost anything by saying, "Don't mind, it's Holi!With winter neatly tucked up in the attic, it's time to come out of our cocoons and enjoy this spring festival. Every year it is celebrated on the day after the full moon in early March and glorifies good harvest and fertility of the land. For now Enjoy this "Carrot Halwa" made with the colors of love & peace.I am sending this over to Joanne for this week's BSI - carrots, Sanjana's Wear your Food Event & Nivedita's Celebrate Sweets- Halwa Event.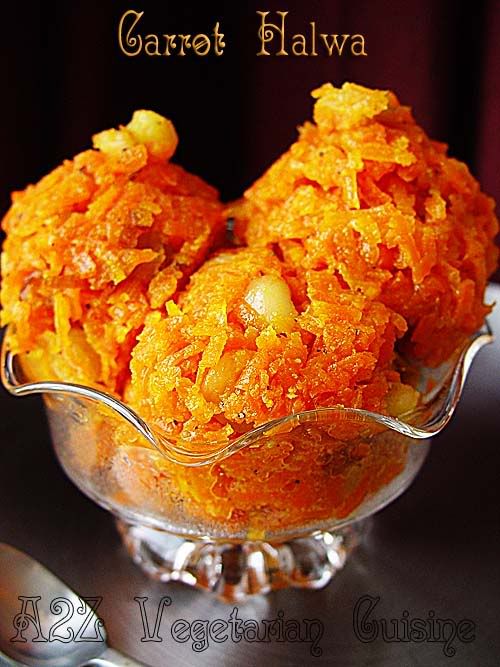 Ingredients:
4 C Carrots, peeled - grated
1 Tbsp Ghee, clarified butter
2 Thsp Nuts ( almonds + cashew + pistachios)
1 tsp of Raisins
1 C Sugar
3 C Low-Fat Milk
3 Tbsp Khoa / Mawa / paneer
2 tsp Green Cardamom powder, finely crushed
Method:
1. In a non stick wide bottomed pot / heavy saucepan add ghee, as it melts add nuts and slightly roast it, do not make it brown.
2. Now add grated carrots, milk and let it cook in an open pot on medium flame untill cooked, with constant stirring.
3. Once the water is evaporated from carrots, add sugar & khoa, cook untill the sugar syrup is thickened.
4. Switch off the gas/flame, and add cardamom powder. Serve hot.
Note:
1. Using a wide bottomed pot makes it easier & it gets cooked faster.
2. Instead of using khoa/ mawa, you can aslo use paneer from curdled milk. It will only give that rich taste which is much needed in this recipe.
3. Enjoy this carrot pudding/halwa warm or cold. Can be also added with vanilla ice-cream..
4. Stays fresh in fridge for atleast a week.