Know what you eat:
Many avocado recipes that you'll find in cookbooks and on the Internet include avocado as an ingredient in its raw, unheated form. I also favor this approach. I simply cannot think of a better way to preserve the health benefits made possible by avocado's unique and delicate fats. If you do plan to use avocado in a recipe that calls for heat, I recommend that you use the lowest possible temperature and least amount of cooking time that will still work with your particular recipe. My purpose in making this recommendation is to help you minimize damage to avocado's unique fats.

A Few Quick Serving Ideas
Use chopped avocados as a garnish for black bean soup.
Add avocado to your favorite creamy tofu-based dressing recipe to give it extra richness and a beautiful green color.
Mix chopped avocados, onions, tomatoes, cilantro, lime juice and seasonings for a rich-tasting twist on traditional guacamole...check this recipe for the same..
Spread ripe avocados on bread as a healthy replacement for mayonnaise when making a sandwich.
For an exceptional salad, combine sliced avocado with fennel, oranges and fresh mint.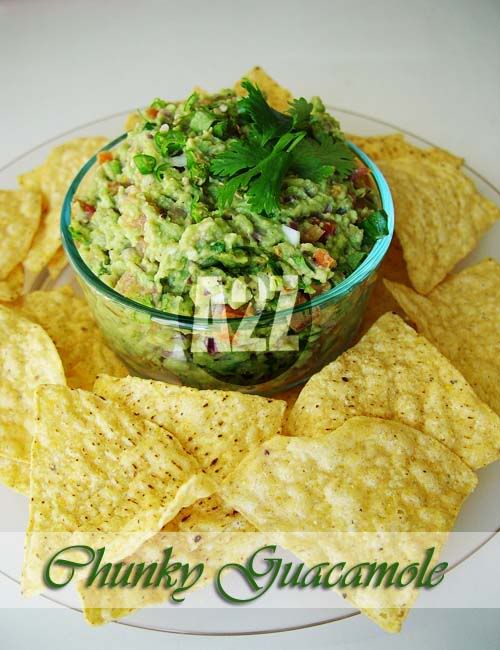 Ingredients
4 ripe Haas Avocados
3 Tbsp fresh lemon juice
6 dashes Hot sauce OR 4 medium finely chopped green chillies (optional)
1/2 C finely chopped red onion
1 large garlic clove, minced
1 tsp kosher salt
1 tsp freshly ground pepper
1 medium tomato, seeded and finely chopped
Lots of finely chopped Cilantro (Coriander)
Preparation
Halve and pit the avocados, then scoop the flesh into a bowl. Add the lemon juice, Hot sauce / chopped green chillies, onion, garlic and salt and pepper; and lots of chopped cilantro, toss with a wooden spoon.
Using a sharp knife, slice through the avocados in the bowl until they are finely diced. Add the tomatoes and toss to combine.
Adjust the seasonings as needed.
Enjoy with BAKED Corn Tortilla chips.