Know What You Eat:The combination of whole-grain brown rice and fiber-rich beans makes this a nutritionally super side dish. Black beans are high in protein, magnesium, manganese, folate, potassium, calcium and iron. Black beans are very low in calorie and almost fat-free. They are great for the health and should be the part of our daily diet. They are economical and can be purchased in bulk and stored in airtight containers for at least one year.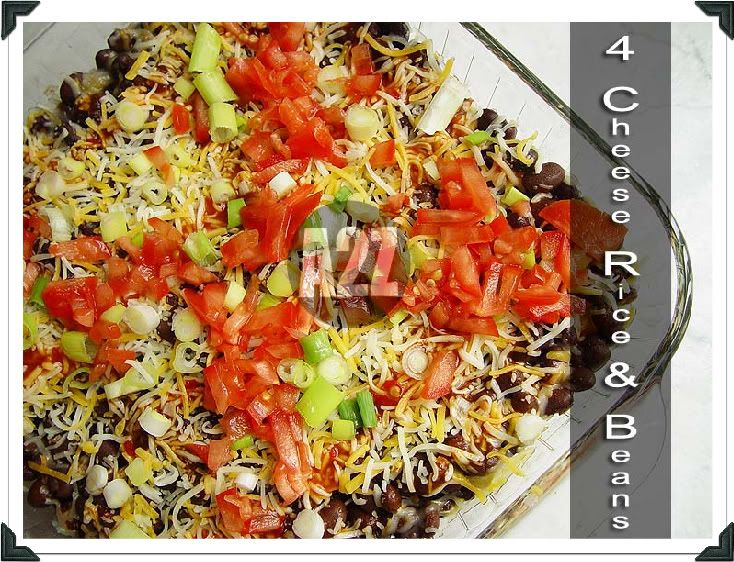 Recipe: 4 Cheese Mexican Black Beans & Brown Rice
Serves = 2 Total Active time: 15 mins
Ingredients
1 C Brown rice, cooked
2 tsp extra-virgin olive oil
1 medium Onion, chopped
2 medium Tomatoes, finely chopped
2 C red bell pepper, seeded and diced
2 cloves garlic, minced
4 Cheese Blend, vegetarian shredded cheese
1 C Black beans,soaked overnight & cooked OR 1- 19ounces Canned Black Beans
1 1/2 tsp Oregano
1/2 tsp Paprika
1/4 tsp cumin seeds OR Powder
1/2 tsp Taco Seasoning
1 tsp Cider Vinegar
1/4 tsp Hot sauce, any variety
1/8 tsp freshly Ground Pepper
1/3 C Cilantro, chopped
1/3 C Scallions, chopped
Preparation
Soak brown rice for atleast 3-4 hours and cook it. Set aside.
Pick over beans to remove imperfect beans and any foreign matter. Rinse well in cold running water.Soak overnight cook it. Set aside.
In a skillet, add cumin seeds and sauté onion, pepper over medium heat until onions are tender and translucent. Add minced garlic and oregano when onions begin to color (about 5 minutes). Do not allow garlic to brown. Add remaining ingredients; except rice, tomatoes and scallions, mix well.
Stir mixture into beans in saucepan. Bring to a boil, reduce heat to low.
Simmer for a while about 5 mins. Serve over steamed brown rice while still hot.
Garnish it with chopped tomatoes, scallions, cheese and or cilantro.
Microwave for 2 mins on high for cheese to melt over.Serve with freshly made salsa.