Know What You Eat:
Tava Pulav | Tawa Puloa is a term every Mumbaikar's are well verse with, and its as famous as Mumbai's Pav Bhaji, found in every nook and corner almost in every restaurants and in everybody's menu options..Tawa Pulao can be instantly put together with cooked rice | leftover rice and Pav Bhaji masala, addition of vegetables and other hot Indian spices makes it more enticing and mouthwatering.This recipe originally is prepared on a hot smoking tava / griddle, as the name suggests. But you can also use a regular pan / wok. Butter is usually used but you can substitute it with regular cooking oil and ghee (clarified butter) in 1:1 proportion. Here's how to make
Pav-Bhaji
which will compliment this rice dish.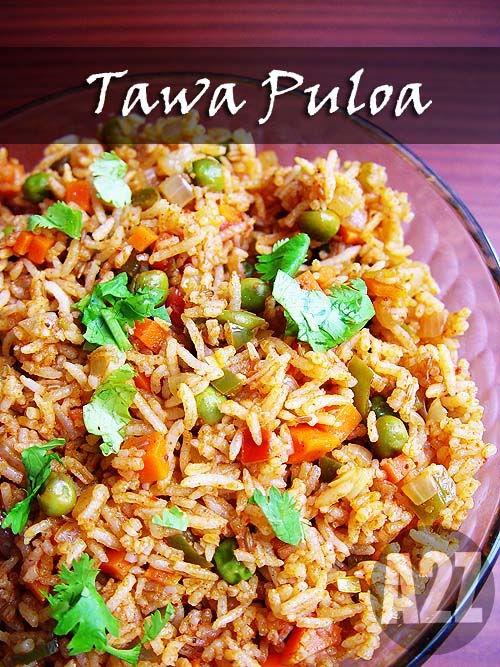 Vegetable Tawa Puloa | Tava Pulav Recipe
Ingredients
2 C Boiled or Steamed Rice, (each grain separate)
1/4 C Green Peas Boiled
2 Onion, finely chopped
2 Medium Tomatoes, chopped
1 Medium Bell pepper, chopped
1 Medium Carrot, diced
8 Cloves of Garlic, chopped
Cilantro, chopped
2 Green Chillies chopped finely
3 tbsp Butter Or Oil ( I used Amul Butter)
1 tbsp Cumin Seeds (Jeera)
1/4 tsp Turmeric (Haldi)
3 Tbsp Pav Bhaji Masala
1 Tbsp Garam Masala
1/2 tsp Red Chilli Powder
Salt as per taste
Lemon juice per taste
Method
Cook rice on stove, not in pressure cooker, strain under cold water to get each grain separate. Keep it aside.
Heat a wok, now add butter or oil, once it is hot add cumin seeds, when they crackle stir in chopped garlic. Saute for a minute on low fire.
Add chopped onions and fry until crisp and golden brown.
Its time to add chopped carrots, bell pepper, cook it for a while and then add chopped tomatoes and cilantro along with all the spices | masalas and required salt.
Cook it for another 5 mins and combine well with a spoon. Once all the spices and vegetables mix in well its now time to stir in cooked peas and rice.
Mix and toss it very well but be gentle you dont want to break rice and make it like a khichadi .
Squeeze in lemon juice, and garnish it with chopped cilantro and serve it warm with or without yogurt.