Know What You Eat:
Paneer is a good source of calcium, which in later years helps prevent osteoporosis. Cheese provides 25% of the calcium in the food supply.Its high in protein thus reduce the risk of cancer and its a health food for stomach disorders..
Paneer Bhurji has become my kids favorite since a while now, but I never got chance to blog it, since the minute it was in serving dish, before I know it was gone.This dish comes very handy sometimes when I have a make a paneer side dish, a heavy after school snack, very simple and easy to make yet very nutritious high in protein and superlike by all kids..The recipe calls for almost all the ingredients found in your kitchen, though addition of bell peppers and other veggies makes this dish versatile and healthy.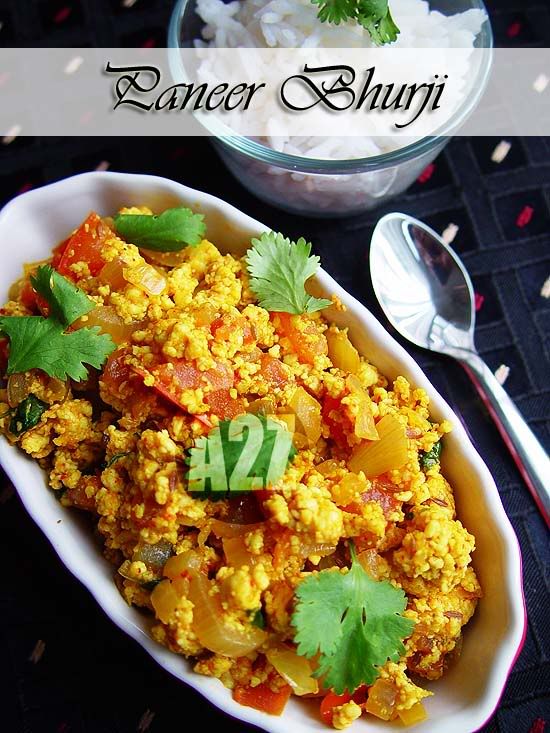 Recipe: Paneer Bhurji
Preparation time: 5 mins Cooking time : 7-10 mns Serves 4 as side dish

Ingredients
2 C Paneer, grated (homemade, store-bought)
1 big Onion, chopped
2 medium Tomatoes, chopped
1 Tbsp Clarified butter | Olive Oil
1 tsp Cumin Seeds
1" Ginger, grated
3-4 Cloves Garlic, minced
1-2 Green Chilies chopped
1 tsp Coriander Powder
1/2 tsp Chili Powder
Few pinches Turmeric Powder
1/4 tsp Chaat masala powder
1/4 tsp Garam Masala powder
Coriander or Cilantro to garnish
Salt to Taste
Juice of 1/2 lemon
Method:
Heat oil in a pan add cumin seeds, and fry onion until translucent and lightly golden brown.
Now add grated ginger minced garlic and green chilies and fry until light brown.
Add chopped tomatoes and cook until about 2 mins until it becomes more or less like a gravy, then add coriander powder, chili powder, turmeric, salt, garam masala powder. Mix well.
Add grated panner and chaat masala, mix well so all the spices coats paneer, cover the lid and continue to cook for 2-3 minutes on medium flame.
Remove the lid stir paneer bhurji and cook for another 2 minutes or until done.
Squeeze lemon juice and garnish it with chopped cilantro.
Serve hot with Rice | Roti OR as a Wholesome Snack.