Know what you eat:
Kadhi or karhi (कढी ) is an Indian dish made in several parts of India and often served in combination with khicṛī. It is a spicy yogurt-based soup which often contains chickpea flour and vegetable fritters called pakoras, and is eaten with rice and roti.
Two varieties Gujarati Kadhi, Punjabi Kadhi and now the third "Pineapple Kadhi"..A combination of sweet,tangy, and spicy taste all in one..

Yogurt
is low in Saturated Fat and Cholesterol. It is also a good source of Protein, Vitamin B12, Pantothenic Acid, Potassium and Zinc, and a very good source of Riboflavin, Calcium and Phosphorus. Bengal Gram Flour very low in Cholesterol and Sodium, a good source of Dietary Fiber, Protein and Copper, and a very good source of Folate and Manganese.
Fresh pineapple is storehouse of many health promoting compounds, minerals and vitamins that are essential for optimum health. Now to the recipe...
Prep Time
: Under 15 min
Cook Time
: Under 15 min
Serves
: 2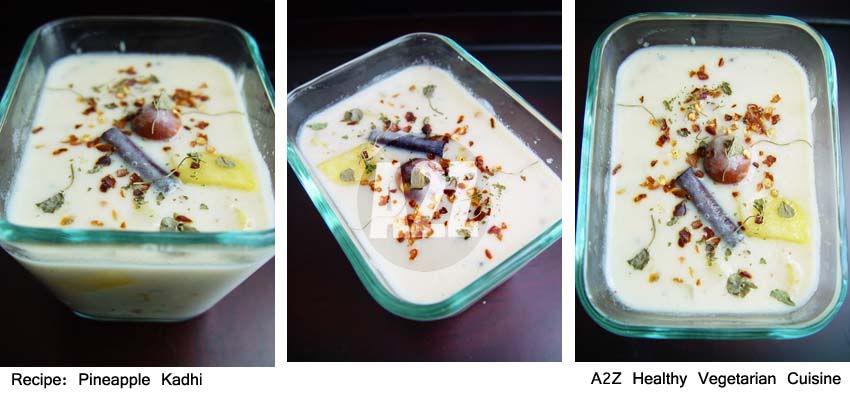 Ingredients
1-1/2 C Beaten Fresh Lowfat Yogurt
1 Tbsp Bengal gram flour(chickpea,besan)
1 C Water
1/2 C Pineapple Juice
½ tsp Chilli-Ginger paste
1/2 C Pineapple, chopped
1 Tbsp Sugar or jaggery
1 Tbsp Cilantro, chopped
Juice of 1/4 lemon
Salt to taste
Few Curry leaves
Seasoning
1/4 tsp Cumin seeds
1/4 tsp Mustard seeds
1/4 tsp Fenugreek seeds (methi)
1/2" Cinnamon stick
3-4 Cloves
2 Cherry Pepper
1/2 tsp Garam Masala powder
1/2 tsp Whole coriander seeds
1 tsp Asafoetida (hing powder)
1 Tbsp Ghee or oil
Garnishing
1 Tbsp Cilantro, chopped
Few Kasoori Methi leaves
Red pepper flakes, a dash
Method
Mix besan (flour),yogurt, water and pineapple juice and blend till the mixture is smooth.
Heat ghee/oil in a saucepan splutter mustard seeds & rest of the ingredients in seasoning, add curry leaves and chilli-ginger paste stir properly. Add this seasoning (tadka) to the yogurt-flour-water-juice mixture.
Now add salt and sugar | jaggery, garam masala, cilantro, lemon juice and pineapple pieces and bring it to boil.
Once done lower the flame and allow to simmer for a few minutes stir continuously.
Garnish with coriander leaves, red pepper flakes, kasoori methi and serve while hot, with roti (Indian Bread, or Rice)