Know What You Eat

: Buttermilk | "Masala Chaas" is common accompaniment in most of the Indian diets..as is lower in fat than regular milk, because the fat has been removed to make butter. It is also high in potassium, vitamin B12, calcium, and riboflavin as well as a good source of phosphorus. There are lots of benefits drinking buttermilk to mention, here are few.

Gastrointestinal Benefits:
Those with digestive problems are often advised to drink buttermilk rather than milk, as it is more quickly digested. Buttermilk has more lactic acid than skim milk.

Gall Stone Treatment:
Buttermilk isn't a cure for gall stones in on its own, but a major part of gall stone treatment is eating the right diet. Fatty milks are to be avoided when treating gall stones, but they can be substituted by either skim milk or buttermilk, which both have an appropriately low fat content. This enables you to continue providing calcium to the body while limiting your fat intake.
How to make buttermilk?
Originally,
Butter is produced by churning cream until the fats separate from the liquid (buttermilk) and the butter is in a semi-solid state. My mother still in today's date makes Ghee (clarified butter) with the same method. Blend in yogurt, water, cumin powder, ginger and salt ...addition of cumin is another benefit as it aids in digestion as well...But a
tall glass of this healthy and tasty beverage on a hot summer day is a moment to look forward to....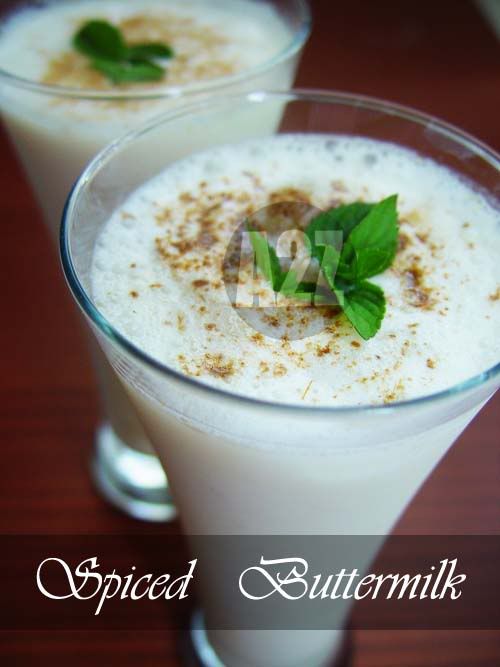 Recipe: Roasted Cumin Flavored Buttermilk | Masala Chaas
Preparation time: 5 mins Cook time - N/A
Serves 2
Ingredients
1 C Yogurt, lowfat

1 3/4 C Water

1 Tbsp Cumin powder, roasted

1/4 inch Ginger, grated

Cilantro, finely chopped (optional)

Salt to taste

Crushed Ice
Method
Mix yogurt and water, cumin powder, grated ginger, salt and blend well. Add crushed ice.

Pour into glasses and serve chilled

.