Know What You Eat: A Quesadilla is a Mexican snack food made of cheese (and occasionally other ingredients) on a folded corn tortilla and cooked until the cheese melts. The word comes from Spanish, and literally means "cheese tortilla". I used brown rice tortilla which is gluten free and whole grain, folded in with a whole lot of other goodies from my vegetarian chilli recipe found here.This is just not a snack, but is a very kid friendly lunch.. You can substitute the kidney bean to black bean or anything of your choice. Keep the chili ready following instruction here.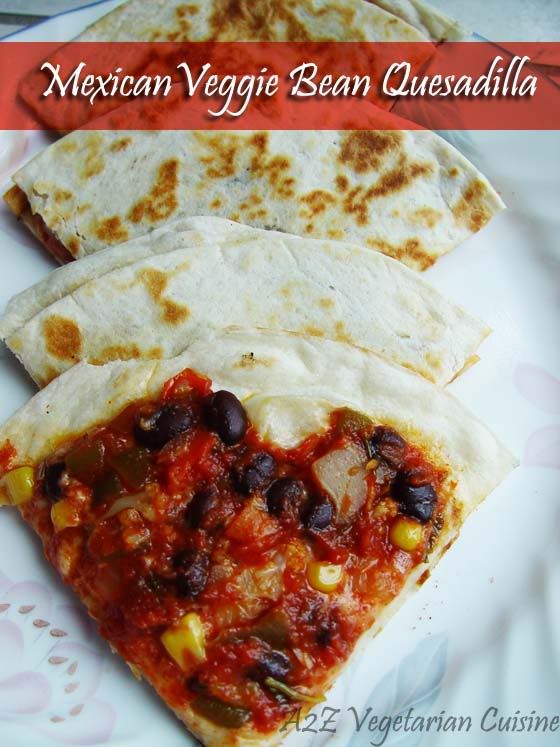 For Quesadilla You Need:
2-4 Tortilla - I used brown rice tortillas
3/4 C Vegetarian Cheese (without rennet)
1) Once the chili is being prepared from
here
, keep it aside.
2) Heat a iron griddle, apply a tsp of oil on both sides of quesadilla and cook one side.
3) Now place the other uncooked side on the griddle, and spread half of the cheese throughout the tortilla.
4) Once the cheese melts, add the cooked chili and fold the tortilla mid way to form a half circle and remove from heat.
5) Using a pizza cutter, cut midway to form wedges and serve with salsa of your choice.
Method 2-
Instead of folding the tortilla mid way, you can cover the tortilla with veggies and cheese and another tortilla and turn and cook the tortilla which you had used for covering.Cook until well done bring down to a platter and use a pizza cutter and cut it into 1/4's.
Hey if you dont want to even stretch a bit check
out TGI's Friday Value Offers on right sidebar banner..
Disclaimer:
This sponsorship is brought to you by Friday's® who we have partnered with for this promotion.
Check out their menu .
Attention Chicago area
Friday's fans! Head on over to your local Friday's now to pick 2 items for only $10!
Enjoy some of Friday's® delicious specials (including appetizers, entrees, and desserts):
Spinach Florentine Flatbread
Delicious Vanilla Bean Cheesecake
Pan-Seared Parmesan Flounder
Delicious Vanilla Bean Cheesecake
This offer is available every night of the week! For the full menu being offered, please visit:
http://ad.doubleclick.net/clk;244940024;55575682;l?http://www.tgifridays.com/menus/pick2for10.aspx
Attention West Palm Beach area Friday's fans! Head on over to your local Friday's now to pick 2 items for only $10!
Enjoy some of Friday's® delicious specials (including appetizers, entrees, and desserts):
Spinach Florentine Flatbread

Delicious Vanilla Bean Cheesecake

Pan-Seared Parmesan Flounder

Delicious Vanilla Bean Cheesecake
This offer is available every night of the week! For the full menu being offered, please visit:
http://ad.doubleclick.net/clk;244940025;55575682;m?http://www.tgifridays.com/menus/pick2for10.aspx