Know What you Eat: Wholewheat Ajwain Carom seed paratha/roti is a great way to incorporate these popular aromatic spice/herb in authentic Asian Indian cooking. These seeds are sometimes consumed raw with a glass of water to get rid of stomach ache because of indigestion, but when it comes to kids, I will try all my homemade resource first than landing on over the counter medicines.....as its bagged with tons of medicinal properties like its said to prevents bad breath, reduces toothache, beneficial for a sore throat, provides relief from bronchitis as well as asthma, helps get rid of indigestion, prevents flatulence, and enhances appetite to name a few whether served with a curry, chutney, ketchup or even plain Yogurt!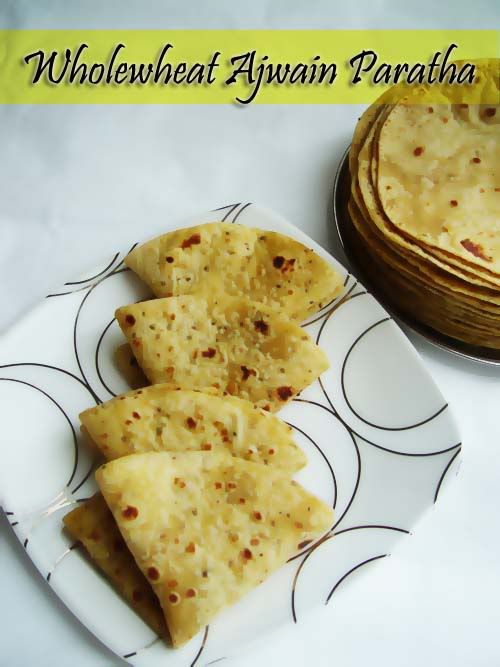 Ingredients:
2 C Wholewheat flour
1 Tbsp canola oil
2 Tbsp Ajwain seeds, crushed roughly
1 tsp salt , and water to knead a dough
Ghee / Oil to apply both sides of paratha

Method:
1.. Mix together all the ingredients, then add enough water to make a stiff dough, keep it aside for atleast 15 min.
2.. Divide the dough in small balls. Then roll out each ball into a not too thin disc or a chapati on a floured board.
3.. Grease a smoking tava or a griddle with ghee and place the paratha over it, keep a watch turnover when its little golden brown in color, apply ghee on the top and turn over.
4.. Press gently and spread some ghee over this side too. Keep turning untill parathas turn golden brown or done
5.. Serve it hot with green coriander chutney, ketchup, achar or "evergreen" a bowl of seasoned yogurt.