Know What you Eat: Thinking of a stuffed paratha to put in a breakfast/dinner plate today?? Try this one, wholesome healthy, nutritious and filling start to the day wholewheat cabbage onion paneer paratha.. Parathas(flatbreads) like such generally stuffed with variety of stuffings like Paneer, Potatoes, Lentils, Radish, Spinach or any other combination of vegetables mixed with spices are so versatile that they can be perfect for Lunch, Brunch or Dinner, whether served with a curry, chutney, ketchup or even plain Yogurt!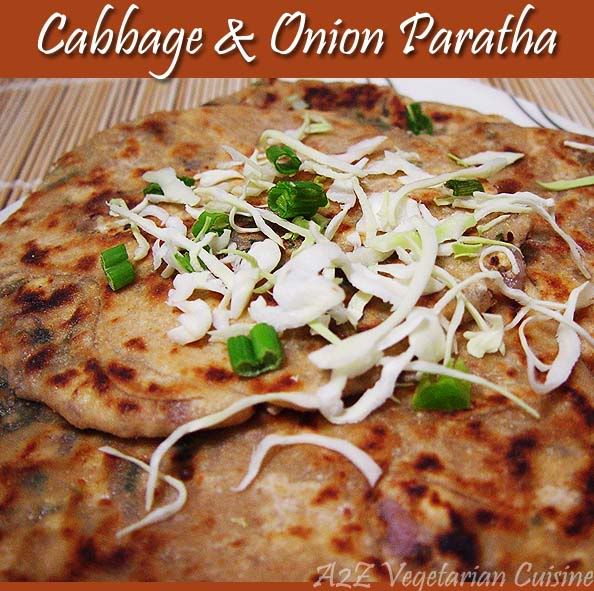 Cabbage Onion Paneer Paratha Recipe:
Ingredients:

For the dough:

3 C Wholewheat flour
1 Tbsp canola oil
1 tsp salt , and water to knead a dough

For stuffing:
2 C Cabbage, finely grated
1/2 C Paneer(cottage cheese),grated (optional)
1/2 C Scallions/Onions, finely chopped
1 Tbsp coriander, finely chopped
1 Tbsp Mintleaves, finely chopped
3 Green Chillies, finely chopped
1/2" Ginger,finley chopped
1 Tbsp Dry Mango powder (Amchur powder)
2 tsp Garam masala powder
1/4 tsp sugar (optional)
Ghee (clarified butter) or Oil for applying on both sides of paratha.
** Salt to taste**

Method:
1.. Mix together salt, flour & oil, then add enough water to make a stiff dough, keep it aside for atleast 15 min.
2.. Mix together all the ingredients in a wide bowl.
3.. Divide the dough in small balls. Then roll out each ball into a not too thin disc or a chapati on a floured board.
4.. Spread the above prepared mixture on one round flatbread(roti) and cover with another round roti.
5.. Seal the edges nicely, sprinkle a little dry flour on top, then roll out the paratha as thinly and as roundly as you can, being careful not to break it.
6.. Grease a smoking tava or a griddle with ghee and place the paratha over it, keep a watch turnover when its little golden brown in color, apply ghee on the top and turn over.
7.. Press gently and spread some ghee over this side too. Keep turning untill parathas turn golden brown or done.
8.. Sprinkle some chat masala if you have handy with some grated paneer/cabbage as seen in picture.
9.. Serve it hot with green coriander chutney, ketchup, achar or "evergreen" a bowl of seasoned yogurt.