Know What You Eat:

High Blood Pressure? Cucumber Can Help You Cool Down.

....

..Study added foods high in potassium, magnesium and fiber, their blood pressure dropped to healthier levels.The phrase "cool as a cucumber" is not without merit. This vegetable's high water content gives it a very unique moist and cooling taste. An easy way to increase your consumption of both Fiber and Water...
Hey did you know???? Cucumbers are also used topically for various types of skin problems, including swelling under the eyes and sunburn. Two compounds in cucumbers, Vit-C and caffeic acid, prevent water retention, which may explain why cucumbers applied topically are often helpful for swollen eyes, burns and dermatitis. Add them to your menus during the warm summer months, its a natural cooler and whats better than having it with another cooler colon friendly 'yogurt'..Try this minty cucumber carrot raita (spiced yogurt) and just go cool with cucumbers....This goes to ruchikacooks for Clearly Fresh Bags Review and Giveaway. I would definitely want my cucumbers to stay fresh more with these bags...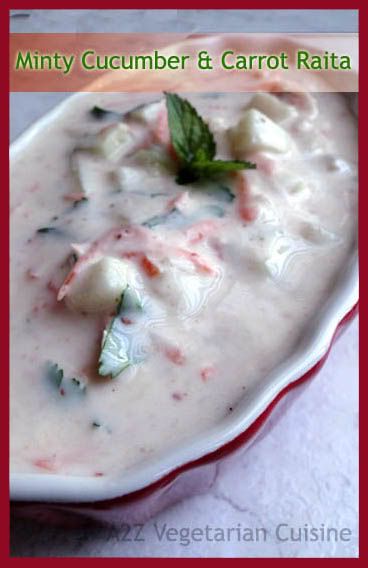 Ingredients:
2 C Cucumbers diced, (without skin if waxed)
1 C Carrots (diced,shred)
2 C Skim Yogurt
1/4 C Water (if needed)
1/4 tsp Roasted Cumin pwd
A pinch of red chilly pwd
OR
2 Green chillies, chopped
1 pod Garlic, peeled finely chopped
2 sprigs Curry leaves (optional0
1 Tbsp Coriander leaves (chopped)
2 Tbsp Mint leaves (chopped)
Lemon juice & Salt to taste

Directions:
1. Beat yogurt with an eggbeater. Add water only if needed. Keep it aside.
2. Dice cucumber, carrot, and chop coriander, mint, green chillies along with garlic.
3. Add everything in the yogurt along with spices and salt according to your taste. Mix well.
4. Squeeze in lemon juice and garnish it with chopped coriander leaves.
5. Serve it cold, with stuffed paratha or Rice/Quinoa variety of your choice.