Know What You EAt: Diabetic friendly, dried figs can be used in a variety of dishes. Think of the mouth-watering desserts or drinks that can be made of dried figs. Sorry for increasing your appetite, I myself couldn't resist the thought.Figs are a good source of potassium, a mineral that helps to control blood pressure and fiber that have a positive effect on weight management. Split chickpea a high protein content along with flavor rich coconut together makes this recipes naturally healthy, protein & fiber rich. Not to forget figs are good source of Iron too..Grab these flavorful lowfat, high protein, sugarfree vegan guilt free snack and feel fuller and faster.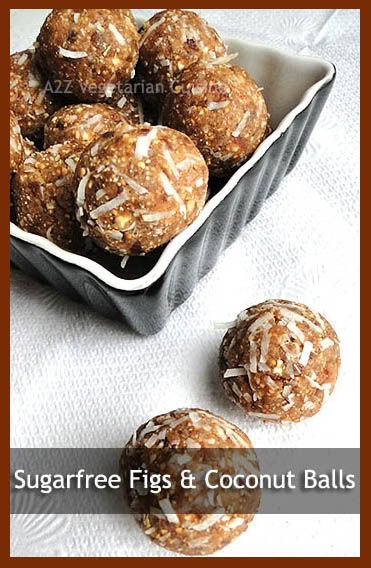 Ingredients:

1 C Dry Figs,chopped

1 C Split Chickpea, roasted
1 Tbsp Honey/Xylitol (optional)
1/4 C Lowfat milk/water (eliminate milk for vegan version)
1/2 C Desicated Coconut
1 tsp Cardamom pwd

Directions:

1. In a saucepan on a medium heat, add diced figs and milk/water and put it on simmer. Its done to soften figs so it works well in your food processor and also helps binding.

2. Powder roasted split-chickpea, add cardamom pwd, honey, figs and churn everything well your food processor.

3. Transfer it into a bowl and make small balls. Roll each ball in desicated coconut. You can also add coconut in mixture above and roll everything into a ball like I did to save some time.