Know What You Eat: Cabbage is an excellent source of vitamin C and a good source of vitamin A (which comes from its concentration of carotenla oids such as beta-carotene). Polyphenols one of the component of cabbage gives cabbage its rich antioxidant property. The glucosinolates found in cabbage can be converted into isothiocyanate compounds that are cancer preventive for a variety of different cancers, including bladder cancer, breast cancer, colon cancer, and prostate cancer.Very easy too cook, ready in minutes.So whenever you have a hectic day next time plan onto something like this along with whole wheat roti(bread) & steam rice/quinoa your choice.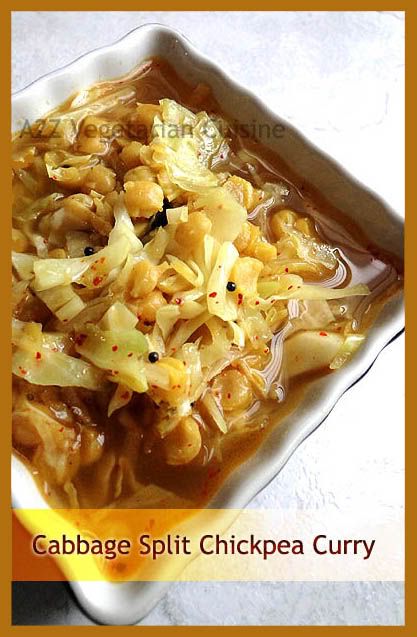 3 C Cabbage (shredded)

SUBSTITUTE:

bottlegourd, ridgegourd
1 C Split Chickpea(chana dal), pressure cooked/boiled
3 pods Garlic, peeled finely chopped
2 sprigs Curry leaves
1/4 tsp mustard seeds
1/4 tsp cumin seeds
1 Tbsp Olive/Canola Oil
1 tsp Red chilly pwd
1/2 tsp turmeric pwd
1/2 tsp garam masala pwd
1 Tbsp Coriander leaves (chopped)
A pinch of Asafoetida (hing)
A glass of water/vegetable stock
Lemon juice & Salt to taste

Directions:
1. Pressure cook chana dal along with pinch of turmeric and salt. Shred cabbage. Keep it aside.
2. Heat oil in a wok, splutter mustard seeds, add cumin seeds, curry leaves, hing and chopped garlic.
3. Now add dal, turmeric, red chilly, garam masala pwd and salt to taste.
4. Add cabbage along with a glass of water/vegetable stock. Bring it to boil.
5. Squeeze in lemon juice and garnish it with chopped coriander leaves.
6. Serve it with whole wheat roti(bread) & steam rice/quinoa your choice.