Know What U Eat:
HAPPY CINCO DE
MAYO !!!!!!!
Mexican lunch/dinner/snack idea's are always appreciated in my family, as it contributes food from almost all groups, fresh, very healthy & yummy.In the platter here, I have Guacamole dip for those crunchy whole corn chips, mix vegetable stir fry, rice with beans and favorite tomato/fruit salsa..About the whole recipe, although it doesn't take too much of time to make all of these in a single day session, some of them could be pre-made and stored in refrigerator. Its not exactly what we get in

Chipotle, the famous Mexican grill

, but its homemade, fresh and very much similar to its Burrito bowl, unless you like a scoop of everything in here wrapped up warm in your favorite tortilla, which we all love to eat whenever we decide to eat out now a days. For now enjoy this Mexican Fiesta..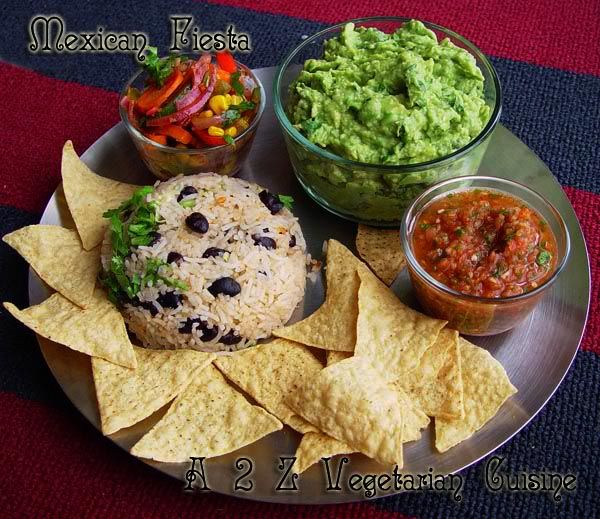 Ingredients:
4 ripe hass Avocado's
1/2 C Fresh Cilantro, chopped
Juice of one lemon/lime
Salt & Pepper to taste
Method:
1. Mash three riped avocado's, with a fork, add lemon juice, cilantro, salt - pepper mix everything, and keep it aside.
2. Now dice the remaining avacado and add in above mixture..its thats simple. Enjoy!!
Note:
1. Always choose greenish black riped hass avacado variety to make this dip.
2. This dip is always prepared fresh...Avcoado gets easily oxidized in contact with air..to avoid its browning make sure you add enough lemon juice.
Tomato Salsa: (For picture visit here)
Ingredients:
4 C Fresh Ripe wine tomatoes
1 Onion, red or yellow
1/2 C Fresh Cilantro, chopped
3 small Indian green chili OR 1 jalapeno pepper,chopped
1/2 tsp red chili powder OR 1/4 tsp Black pepper powder
2 pinches of Sugar
Salt to taste
2 Tbsp Rice wine Vinegar / fresh lime juice
Method:
1. Throw onions, green chillies, and chop in food processor using pulse setting for 3-4 times untill they are evenly chopped. Remember do not make a paste...then put tomatoes, and rest of the ingredients, again chop evenly using pulse. to keep it chunky.
Mexican Rice:(For picture visit here)
Ingredients For Mexican Rice
1 cup cooked Basmati or Thick Variety Rice
1/2 cup black/red beans cooked
1/2 cup jullian or chopped bell pepper
1/2 cup yellow corn (fresh or frozen)
1/2 teaspoon green chilli-ginger paste
1/2 teaspoons chilli-garlic sauce
1Tbsp Taco Seasoning Mix
** Salt acc.to taste
For the tempering
1 tablespoon oil or butter
1/2 teaspoon cumin seeds
For the garnish
1 tablespoon chopped coriander.
Method to make Mexican Rice.
1. Make the rice, Place the rice in a sieve and rinse under cold running water until the water runs clear. Set aside.
2. Melt the butter in a medium saucepan with a tight-fitting lid, over medium heat.
3. Add cumin seeds, as it becomes toasted and fragrant,in about 30secs add the green chilli-ginger paste,chilli-garlic sauce , then add black/red beans,bell pepper,corn,rice,and then add salt & taco seasoning mix.
4. Mix all together quickly & lower down the flame.Set aside.
Vegetable Stir Fry: (For picture visit here)
Ingredients:
1/2 C Diced Paneer / Tofu
4 C Mix Vegetables (Carrot,Brocolli,Zucchini,Cauliflower, Water Chestnuts,Bell peppers, Yellow Corn,Baby Corn) Washed & Diced in similar pieces.
For Seasoning:
1 Tbsp (EVOO) Olive Oil
3 tsp Sesame Seeds
1 tsp Dried Coriander Pwd
1 tsp Turmeric Pwd (optional)
3 tsp Taco Seasoning Mix
1 tsp red chilli flakes (optional)
Salt to taste
Method:
1. Heat oil in large non- stick skillet / kadhai.
2. Add all the vegetables, now add sesame seeds & toss it well, then add all the seasonings except salt. Put the flame on high and cook it for 5 - 6 mins for that crunch needed in this recipe, you can cook more if desired.
3. Add salt.
4. Mix it very well. Serve Hot. I would just eat them alone.....Works great as a side dish with Plain Rice / Indian flat bread / or with any other main course.
Sending it to Joyful Eating Whilst Travelling, event hosted by Jagruti.