Know What U Eat:

Lycopene is a vital anti-oxidant that helps in the fight against cancerous cell formation as well as other kinds of health complications and diseases. Free radicals in the body can be flushed out with high levels of Lycopene, and the tomato is so amply loaded with this vital anti-oxidant that it actually derives its rich redness from the nutrient. Lycopene is not a naturally produced element within the body and the human body requires sources of Lycopene in order to make use of this powerful anti-oxidant. It takes as little as 540 milliliters of liquid tomato product to get the full benefits of Lycopene. This means that a daily glass of tomato juice has the potential to keep a person healthy for life. For now, enjoy this easy to make instant tomato salsa.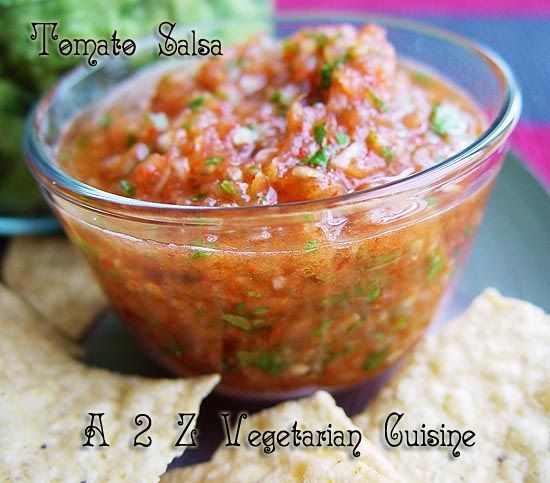 Ingredients:
4 C Fresh Ripe wine tomatoes
1 Onion, red or yellow
1/2 C Fresh Cilantro, chopped
3 small Indian green chili OR 1 jalapeno pepper,chopped
1/2 tsp red chili powder OR 1/4 tsp Black pepper powder
2 pinches of Sugar
Salt to taste
2 Tbsp Distilled Vinegar / fresh lime juice
Method:
1. Throw onions, green chillies, and chop in food processor using pulse setting for 3-4 times untill they are evenly chopped. Remember do not make a paste...then put tomatoes, and rest of the ingredients, again chop evenly using pulse. to keep it chunky.