Vegetable Puff Pastry:
Vegetable Puffs are a wonderful snack option for the days that you want something quick super easy to make yet super yummy. I remember I used to indulge these in college canteen humm..it was my favorite snacks any time of the day. I always keep a package of these puffs in my freezer, and you can have endless options for the stuffing..from sweet to savory, paneer, cheese, mix vegetable...and so on. The one I made is 0 Transfat
How to Thaw and Use Puff Pastry Sheets:
Read the instructions on the pack.
1. Take out the packet about 1 hour before you want to use it.
2. Place it on a liberally floured surface and roll it out firmly to about 1/2" thickness.
3. Cut out into long rectangles for puffs or other shapes depending on your use.
Any Ready made Puff Pastry Sheets 1 pack (0 Transfat)
Water to brush along the sides.
Filling:
3 Plantain (cooking banana) or Potatoes, peeled-boiled -chopped
2 Carrots,peeled-boiled- chopped
1 Medium Bell pepper, chopped
1 tsp or acc to taste dry Parseley/1 Tbsp cilantro
1" Ginger, finely chopped
1/2 tsp Coriander-Cumin Powder
1/2 tsp Paprika/redchili powder
1 tsp Garam Masala powder
1 tsp Amchur(Dry Mango Powder)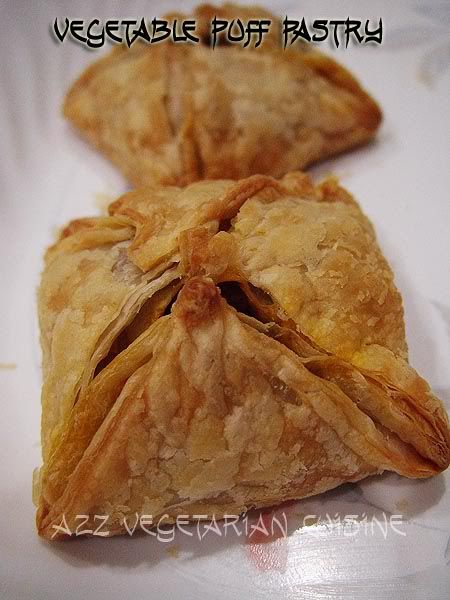 Prepare & Bake:
A. In a pan/pot, heat oil, add mashed banana/potatoes, rest of the vegetables, add salt and let it cook for a while untill its cooked fully.
B. Mix with all spices & set aside.
1. Pre-heat the oven to 375°F.
2. On a flour dusted board roll out these rectangle sheets upto 1/2" thickeness, cut 3 equall squares from these sheets.
3. Stuff a spoonfull of filling into these squares and flip the other end to form a triangle shape. Or place the filling in the center and lift all the corners to close it
firm, brushing little water on its edges, making sure the filling is nicely intact to form a square shape..check the picture.
4. For a nice golden look, brush/spray oil on these pastries.
5. Bake for 15-20 minutes till it raises & forms a golden brown crust.
6. Enjoy hot with ketchup/or as it is...
My favorite Home made dip for these puff pastries:
Mix everything together and enjoy this with hot vegetable puff pastry.
Amount Per Serving
%DV
Serving Size 37g
Recipe makes 18 servings
Calories 50
Calories from Fat 21
42%
Total Fat 2.36g
3%
Saturated Fat 0.35g
1%
Trans Fat 0.0g
Cholesterol 0mg
0%
Sodium 5mg
0%
Potassium 131mg
4%
Total Carbs 7.66g
2%
Dietary Fiber 0.8g
3%
Sugars 3.53g
2%
Protein 0.48g
1%