Know What You Eat: The temperature is dropping day by day and you feel like having something hot & soothing. A one pot meal where I can incorporate vegetables, pastas, & beans with some toasts of wholewheat Italian bread and a bowl of fresh garden salad..Ahh dinner in no time. My addiction and highly kid friendly so watch out...Italian Veg. Minestrone Soup there is no fancy chef's legerdemain involved, only good vegetables fresh or frozen and 3 secret ingredients to put this soup together. Check the recipe...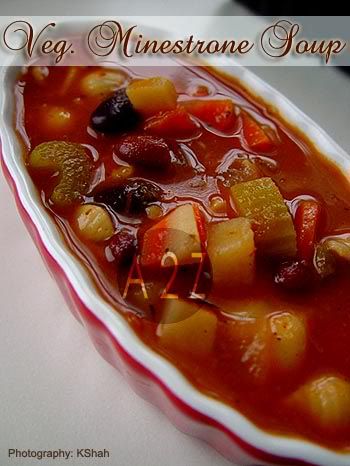 Recipe: Italian Veg. Minestrone Soup - Under 30 minutes
Ingredients:
3 cups reduced-sodium vegetable broth OR Water
1 Big tomato, diced
1 Tbsp Tomato paste
1 Medium Potato
1/2 C Kidney or Navy beans, soaked overnight & pressure cooked
1 Carrot, peeled and chopped (fresh or frozen)
1 Celery stalk, chopped (fresh or frozen)

1 medium onion, chopped
3 pods garlic, chopped
1 tsp dried thyme
1/2 tsp dried sage
2 bay leaves
1 C cooked small shell pasta
1 medium zucchini, chopped (fresh or frozen)

2 C coarsely chopped spinach (fresh or frozen)

2 Tbsp grated rennet free Parmesan or Romano cheese
Basil sprigs, garnish, optional
Salt and ground black pepper
In a large pot, combine all the ingredients except the cheese & pasta. Simmer over low heat for at least one hour, or until vegetables are tender. If using frozen veggies, cook for 15 mins. Stir whenever required.
In another pot bring water to boil and add pasta pasta. Cook pasta according to instruction on the box.
Remove bay leaves and season, to taste, with salt and black pepper.
Ladle soup into bowls and sprinkle Parmesan cheese over top.
Garnish with basil, if desired.