Know What you eat: I make this sweet & spicy immune booster soup,we call it "Raab" especially in winter, and skip morning tea, & breakfast it gives all the warmth & energy required, relieves chest & nasal congestion, stomach disorders and helps in digestion. Studies indicate ginger have anti-inflammatory properties, improve memory function, lower cholesterol, and even be a antioxidant. It has safe and effective relief of nausea and vomiting during pregnancy. It is also given to pregnant and lactating women.The same soup can be made using different flours or your choice & nutritional standards, like, barley flour, horse-gram flour, oats flour - for more fiber, millet flour - for more warmth & easy in digestion, as well as adding almonds will add up with its high nutritional contents, plus its very easy to make, and enjoy in this harsh cold winter.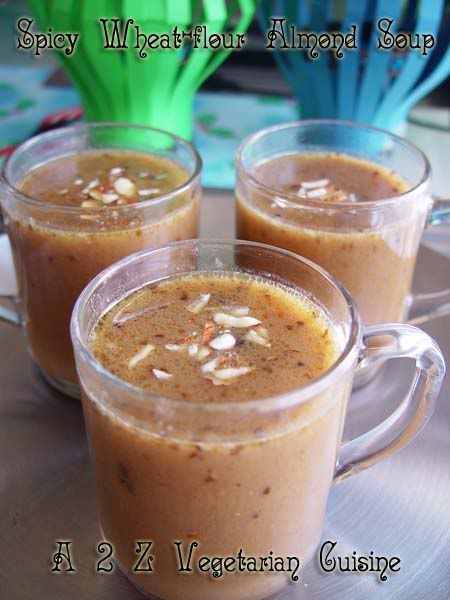 Preparation time: 5 mins
Cooking time: 7-9 mins
Serves : 1
Ingredients:
2 Tbsp Ghee (clarified butter)
1 Tbsp Wheat flour
1 Tbsp Almonds, chopped or fine powder
1 tsp Carom (Ajwain) Seeds
1/2 tsp of dry ginger powder
3-4 cloves
1 - 1" piece of Cinnamon stick
1/4 C Jaggery powder or 2 Tbsp of Brown Sugar
A pinch of black pepper powder
Pistachios (optional)
1 C water
Method:
1. On a medium flame add ghee (clarified butter) in a pot. As it becomes hot add carom seeds, cloves & cinnamon stick. Now add wheat flour, without forming lumps stir in untill it starts to emmit good aroma, you will see the flour has now turned pinkish brown. Just like you make white cheese sauce using APF & butter.
2. Now add water, with the exact measurements given above.. along with jaggery. Stir again, and bring it to a boil.
3. Now add dry ginger powder, black pepper powder, chopped almonds- pistachios. Stir things well.
4. Pour it in a coffee-mug or soup bowl and enjoy while its hot.
This soup straight goes to
Monthly Mingle :Soup
,going on at Tongue Ticklers, event created by
Meeta
.