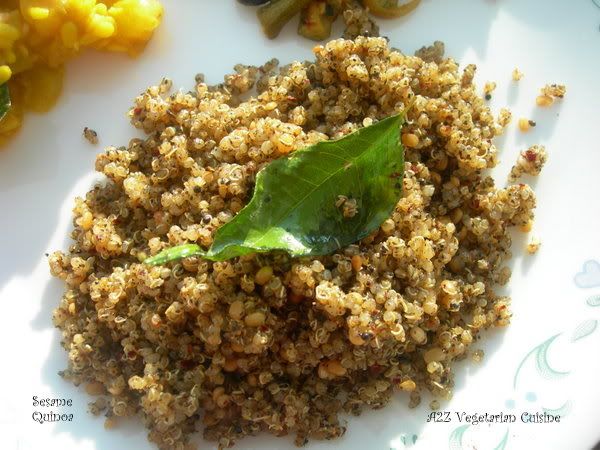 Know what you Eat -
Quinoa, is an extremely nutritious seed. It has a protein value that is extremely
high (12-18%) and the protein it supplies is complete protein, meaning that it includes all nine essential
amino acids. Quinoa is easy to digest and naturally contains no gluten. It is also a good source of
dietary fiber, phosphorous, magnesium, and iron. If you are on a weight loss program or aiming for a
high protein low carb diet, go for quinoa. Rice, Wheat, Corn, barley even if they are whole grains they
do add to weight problems, but a seed based diet like Quinoa, Ragi(Finger Millet) will allow you to
take charge of your weight. Even though whole grains, contribute an important part in the food
pyramid there are various views on this and some believe these to be the cause of obesity, diabetes
etc. But it is very difficult to eliminate grains, when you are used to a grain based staple. But substituting
it with seeds like Millet, Quinoa at least one meal of the day will really help in moving towards the direction.
When you are changing your eating pattern and substituting your staples with new things, you do get craving
to eat the things you liked. Quinoa and finger millet are slowly replacing our staples. Inorder not to get bored and make it more appetising, i try susbtituting quinoa with different rice varieties, which i am used to and this is one of them.
Preparation Time – 5 mins
Cooking Time – 25 mins
Serves – 2
Ingredients
Sesame seeds – 1/4 cup
Red Chili – 4-6 or to your taste
Salt – 1 tsp or to your taste
Quinoa – 1 cup
Oil – 2 Tbsp
Mustard Seeds – 1/2 tsp
Split Urad Dal – 2 Tsp
Asafoetida a pinch
Curry leaves – few
Water
Method
1) Rinse and soak and rinse sesame seeds in enough water for 2 hours.
2) Rinse and soak for 30 minutes.
3) Drain the water completely from the sesame seeds.
4) Cook the Quinoa with 1 1/2 cups water till they are fluffed up or
you can pressure cook for 1 whistle and switch off.
5) Heat a pan and add the drained sesame seeds and keep stirring till they
are evenly popped.
6) Leave the sesame seeds to cool for few minutes.
7) Meanwhile take the quinoa out and let it cool down. I actually make this
using quinoa cooked from the previous day, which is refrigerated to get
a nice separate grains.
8) Grind the sesame seeds with red chili and salt to coarse to fine powder.
9) Heat a pan, add oil and add the mustard seeds, once they stop spluttering
add urad dal and a pinch of asafoetida powder and the curry leaves.
10) Add this oil to the quinoa and then add the sesame powder and mix well.
11) Serve this with
raita
, yogurt with raw vegetables of your choice for a quick, healthy and balanced
meal.
Notes - Add sesame powder according to your taste more or less and the
left over sesame powder keeps well in the refrigerator for at least 2-3 weeks.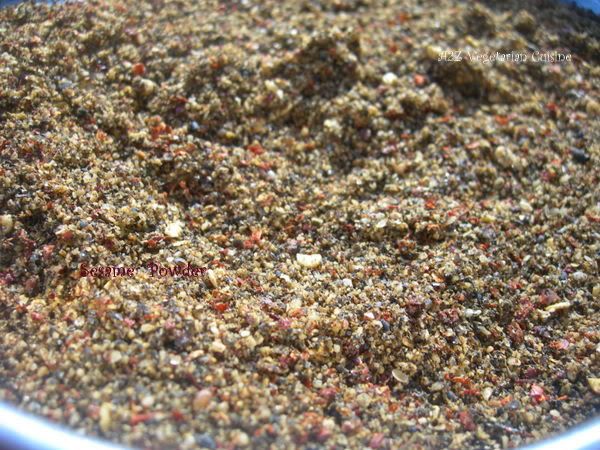 Event Participation
1) This goes to
Cooking with Sesame seeds event hosted by Priya.