Know what you eat:

Garcinia indica or kokum is a fruit tree, of culinary, pharmaceutical, and industrial uses. Kokum is dark purple in color and has a sticky surface with curled edges.
The fruit dried and is usually available in the market as a dried rind. When Kokum spice is added to food, it gives it a natural pink- purplish color and gives it a tangy sweet-sour taste. It is widely used in the regional cuisines of Gujarat, Maharashtra and several South Indian states. Kokum has the same sour taste as that of tamarind. It is also an ingredient in many chutneys and pickles. Where to find ???? Available in any Indian Grocery Store near you.
Here are some benefits making this drink worth for consumption and a perfect home remedy for reducing body heat and indigestion.
Kokum Juice is a health drink as it absorbs heat of your body & gives you instant energy.
It gives respite from indigestion too.
It is rich in taste and provides an excellent alternative to the not so healthy synthetic soft drinks.

Its made from kokum fruit with jaggery, black pepper, and sea salt..

Kokum has refrigerant ingredients and serves as a natural counteract to the heat.
Kokum Juice also mixed with yogurt and salt makes a perfect "natural antacid".
It also contains Hydroxycytric acid which is capable of decreasing cholesterol and tryglyceride levels.
Reduction in gastric acidity, prevents muscosal damage, and is a anti-ulcer agent.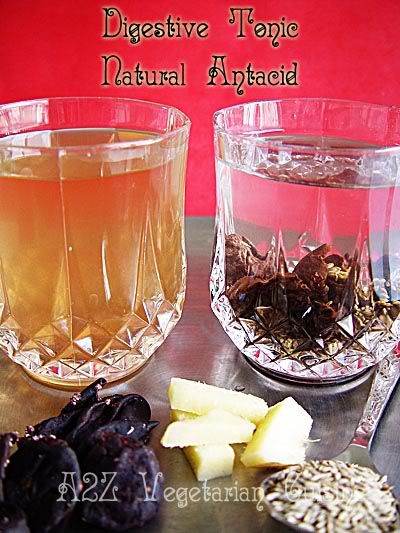 1 Glass Warm water or as needed
1/4 of an inch Ginger piece (optional)
1.In a bowl soak kokum fruit in 3/4cup of warm water along with cumin seeds overnight or atleast for 4-5 hours.
2. Grind everything,along with ginger and make it like a paste. Pass it through a strainer.
3.Take one tablespoon of this paste, along with jaggery/honey, salt and add water as needed..to make it to your taste.
OR

Discard using Ginger if using with yogurt. Kokum paste mixed with yogurt and salt makes a perfect "natural antacid".
1. The paste can be kept in fridge for 2 days..
2. Consume preferably before meals..