Know What You Eat:

Finger millet is especially valuable as it contains the amino acid methionine. Its Rich In Thiamin; Good Source of Fiber & Iron; A Sodium Free Food; Low Fat; Vegetarian. It's favoured as part of prescribed diet for diabetic. The flavor of ragi is not liked by everyone, I tried to combine wheat flour, oats flour, with ragi and chocolate chips to subside the typical flavor of ragi..The muffin came out really spongy and tastes good with chocolate in it. Enjoy the healthy baking.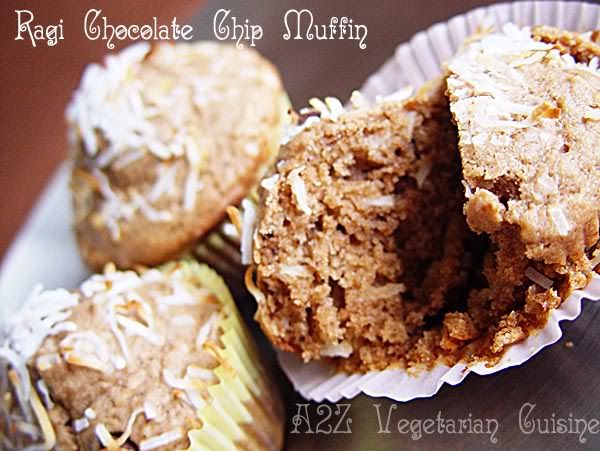 Yields: 10-12 muffins
Ingredients:
1 C Wheat Flour OR (1/2 C wheat flour + 1/2 all purpose flour)
1 C Oat Flour
1/4 C Ragi(Finger Millet) Flour
1/2 C Semi Sweet Chocolate chip
1/4 C Dry Shredded Coconut + 1 Tbsp for topping
1/2 C Butter or 1/4 C butter + 1/4 C Canola oil / Cooking oil
1/4 - 1/2 C Milk ( add accordingly)
1/2 C Apple Sauce
3 tsp Unsweetened Chocolate Powder
1-1/2 tsp Baking Powder
1/2 tsp Baking Soda
3/4 C Brown Sugar (Increase acc. taste)
2 Tbsp Maple syrup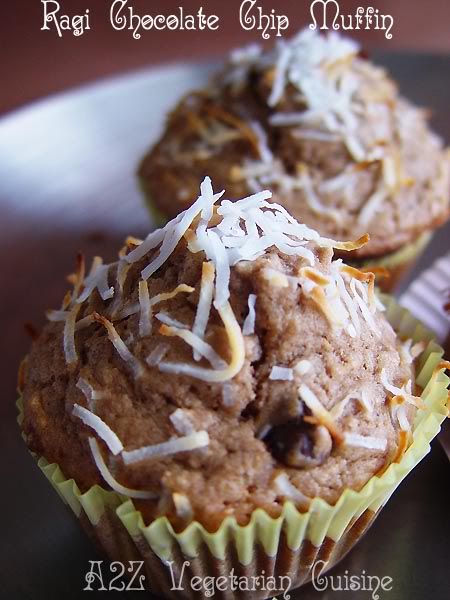 Method:
1. Preheat, and set oven to 350F.
2. Seive & mix all the dry ingredients; wheat-ragi-oat-chocolate chip-coconut. In a separate bowl, mix all the wet ingredients thoroughly and add this to the flour mixture. Add milk accordingly so the batter consistency slightly thicker than that of chocolate cake batter.
3. Line a muffin pan with baking cups and pour 3/4th of cup with the batter. Top it with some shredded coconut.
4. Bake for around 20-25 mins till a knife inserted comes out clean.