Know what you Eat - Gluten is a special type of protein that is commonly found in wheat, barley, rye, kamut, spelt and triticale, ut unfortunately most oat stock has been found to be contaminated with wheat because of processing methods. But you can find gluten free Oats in your health food store or online. These contain oat gluten but not the type of gluten that can harm people with Celiac disease or gluten intolerance.
Now coming to the nutrition in these cookies Almonds are low in saturated fat and contain many other protective nutrients - protein, calcium and magnesium - for strong bones, vitamin E and compounds called phytochemicals, which may help protect against cardiovascular disease and even cancer. Oats are an excellent source of iron, dietary fiber and thiamin. They also contain antioxidants that are believed to protect the circulatory system from diseases such as arteriosclerosis, which affects the arterial blood vessel.
Preparation Time - 20 mins
I stick on to Oats because of their high fiber content and Almonds because of its high nutritional content. The cookies being a part of my kids daily snack , i no longer need to feel too guilty to give something with empty calories and they taste great too.
Cooking Time - 20 mins
Makes - Around 30 Cookies
Ingredients
Oats Flour - 3 Cup
Almond Flour/Meal - 1 1/2 cup
Butter - 3/4 cup(room temperature)
Raw Sugar - 1/2 cup + 2 tbsp (if you want a more sweeter version otherwise keep it to 1/2 cup)
Tutti Fruity(Candied Fruit) - 1 cup
Almond Extract - 1 tsp
Baking Soda - 1/2 tsp
Salt - 1/4 tsp
Method
1) To get Oats flour in a food processor grind the Oats to fine flour consistency.
2) Add 1tsp of sugar to the Almond and grind to a fine powder, adding the sugar will prevent the almond flour from becoming sticky.
3) Combine the Oats flour, Almond flour, Salt, baking soda and the candied fruit pieces.
4) Cream the butter and sugar together and add the almond extract to it.
5) Slowly add the Oats and Almond flour to the butter, sugar mixture and make a dough.
6) Preheat an oven to 350degrees Fahrenheit.
7) Line a cookie tray with parchment paper.
8) Take a small amount of the dough, roll it and flatten it with hand.
9) Place them in the cookie sheet leaving enough space for the cookies to expand.
10) Bake for around 10-15 minutes till they are slightly brown and completely baked.
11) Cool them completely(this is must as they will be very crumbly even to touch) and transfer them to an airtight container.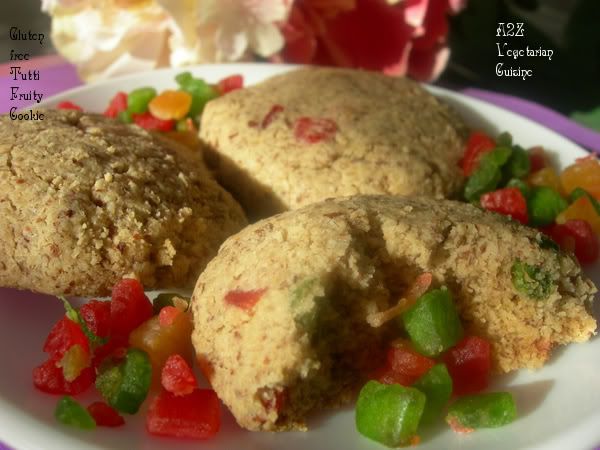 Event Participation
1) This goes to the
Oats Feast
&
Cakes-n-Cookies
events both hosted by Sara's Corner.
2) This also goes to
Eat Christmas Cookies event hosted by Susan
.
3) This goes to
It's time to Jingle hosted by Asankhana
.