Know what you eat:
Alfredo sauce is thick and super creamy, and its not only fantastic on pasta but it can be good pizza sauce as well with some broccoli & spinach as my favourite toppings.
Here's how you make the alfredo sauce from scratch. This recipe is made with special care...with a little variation, which is a sure hit for diet concious people, less thick with same great taste, altering heavy whipping cream with skim milk & all purpose flour, with just a dash of sugar, dried crushed oregano leaves along with skim milk low moisture parmesan rennet free cheese, a hint of ground pepper and garlic powder...and thats it...this super easy & tasty alfredo sauce is ready to eat with your favourite pasta or vegetables.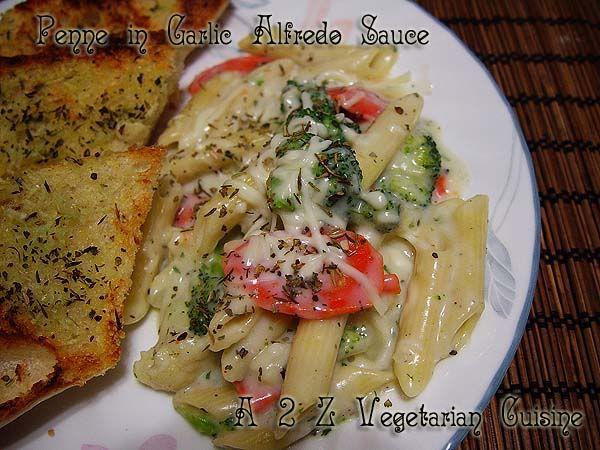 Ingredients:
2 Tbsp Butter
1 Tbsp all purpose flour
3/4 C skim milk
1/4 C low moisture skim parmesan rennet free cheese
1 tsp dried oregano leaves
1/2 tsp garlic powder
A pinch freshly grounded pepper, salt & sugar
1/2 C of cooked penne pasta
1 C of Semi cooked broccoli & carrot
I had this sauce with 1/2 C of penne pasta, broccoli & carrot, you can have your choice pasta & veg.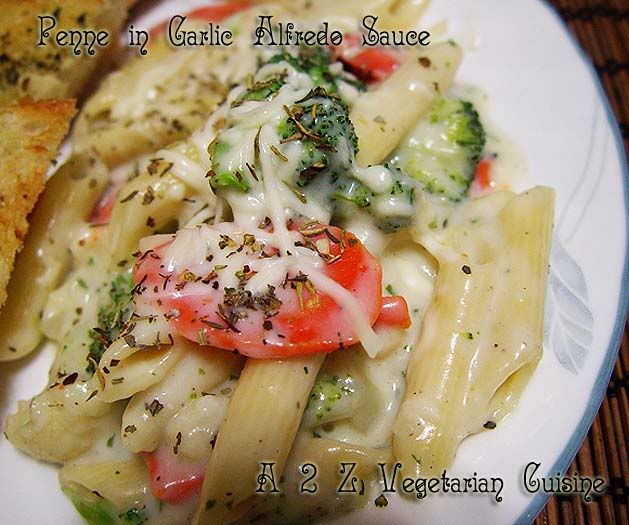 Method:
1. In medium size sauce pan melt butter over medium heat. be careful not to scorch. Add flour and stir continuously, as soon as it starts to emmit cooked aroma, add skim milk again while stirring continuously.
2. As soon as this mixture comes to a boil, add cheese, salt, sugar, oregano leaves,freshly grounded pepper to the above sauce. Mix it well. Allow sauce to boil until parmesan cheese has melted and combined. When dipping in a spoon sauce should not appear "grainy" a few small lumps are okay, now fold in pasta & favourite vegetable sprinkle some crushed red pepper and enjoy with hot garlic itallian bread..
3. If sauce is too thick a small amount of milk can be added to thin and if too thin a cornstarch/water mixture can be added to thicken.
For Garlic Italian Bread:
1 Loaf Fresh Baked Garlic Itallian Bread slittled and cut into 3 - 3"
2 Tbsp Butter, melted at room temperature
3 Pods Fresh Garlic, minced
1 tsp oregano leaves.
Method:
Mix minced garlic, salt, oregano leaves with butter and then apply this on itallian bread, and bake or toast in an oven untill light brown. Enjoy this bread with any itallian side dish.
salt to taste.