Know What you eat:
Fortified Pasta:
Pasta is affordable and easy to combine with other folate-rich foods, such as vegetables, nuts, some legumes and fruits. Remember - every time that you enjoy a great pasta dish, you're on your way to meeting daily folic acid requirements.
Also a quick look at how to make homemade basil pesto sauce...
By the way...The FDA requires food manufacturers to fortify grain-based foods such as pasta with folic acid, an important B vitamin. Folic acid, also known as folate and folacin, plays an important role in the body's central nervous system. FDA has determined that diets adequate in folic acid may reduce a woman's risk of having a child with brain or spinal cord defects. A 2 oz. serving of dry pasta will supply the equivalent of about 100 micrograms a day of folic acid or 25% of the recommended daily intake (RDI).


Right now enjoy this flavorful basil pesto sauce pasta dish..Here's how you can make yours...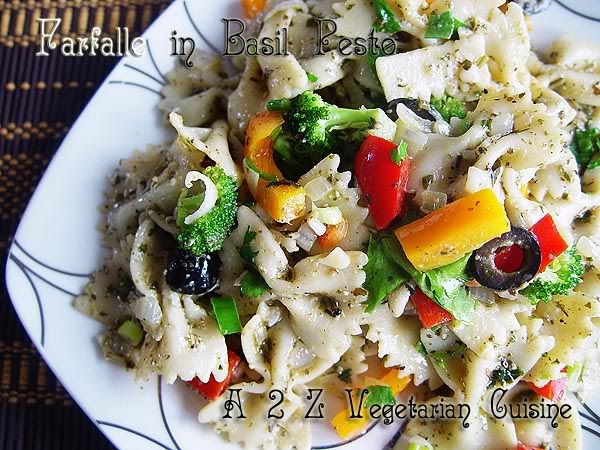 Ingredients:
2 C Farfalle fortified pasta, cooked
1 C Mixed pepper + broccoli ( green, red,orange, yellow), chopped
1 tsp garlic, minced
1/4 C Olives, diced
1/2 C Fresh basil pesto sauce* or store bought
1 tsp dried oregano
salt & pepper to taste
1 tsp olive oil, (basil pesto sauce already has olive oil, so adjust accordingly)
Method:
1. Bring water to boil along with some salt, add pasta and let it cook as per directions on the package. Once cooked drain the water and rinse with cold water.
2. In a pan, heat oil, add the minced garlic & dried oregano leaves, saute for a minute, now add chopped mixed peppers, and let it cook for 2 more minutes.
3. Add cooked pasta, olives, basil pesto sauce, salt & freshly chrushed black pepper. Toss everything well. Serve hot.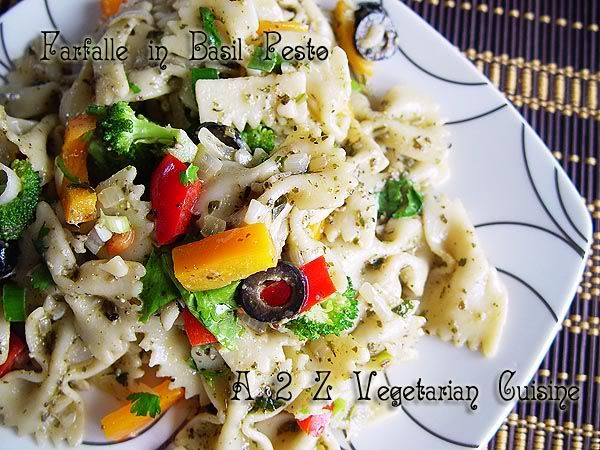 How to make homemade Basil Pesto Sauce:
Ingredients:
3 cloves garlic
2 C fresh basil leaves
3 Tbsp pine nuts (pignolia)
1/2 C extra virgin olive oil
1/2 C Parmesan cheese grated
A dash salt and pepper
Method:
1. Add garlic to the food processor and mince. Next, add the basil leaves, pine nuts, and a dash of salt and pepper to the bowl of the processor. While the processor is running, slowly drizzle in olive oil through the feed tube until all the ingredients are pureed. Enjoy fresh basil pesto sauce, on pasta, sandwiches, etc.
Always Refrigerate this sauce.