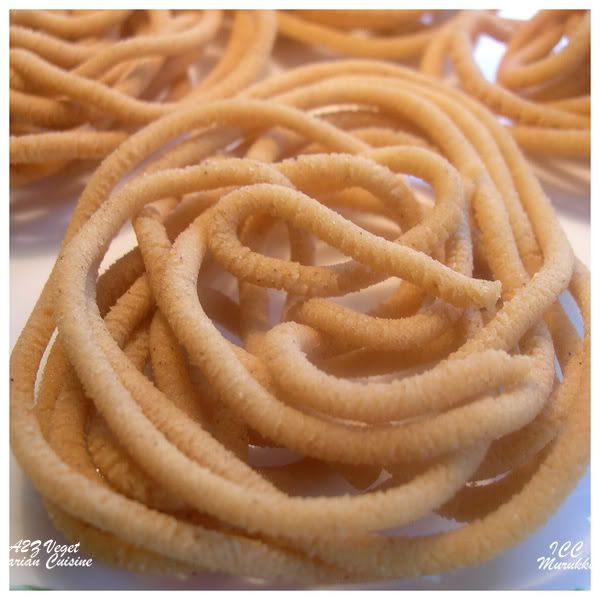 Know what you Eat
- This contains rice flour and urad gram(white lentil flour) and deep fried. Very tempting and tastes awesome, so watch out and try to practice portion control.
This post is for the
Indian Cooking Challenge
and i just followed Srivalli's
recipe
and it came out perfect.
Preparation Time : 20 - 30 mins
Cooking Time : 20 - 30 mins
Ingredients
Raw Rice - 4 cups
Urad Dal - 1 cup
Water - app 1/2 cup or more
Butter - 1/3 cup
Cumin seeds - 1 tsp
Sesame seeds- 1 tsp
Asafoetida powder - 1/2 tsp
Salt - 2 tsp or to taste
Oil for deep frying
Method
1) Wash and drain the rice. Shade dry the Rice for 1/2 hr. Dry roast the Urad dal to light brown. Allow it to cool.
2) First grind rice into a fine flour, keep it aside. then grind the urad dal to fine powder. (I ran the flours through a sieve and grinded the coarse flour once again)
3) In a wide vessel, take both the flours along with salt. Add cumin, Sesame seeds and asafoetida powder to the flour, mix well.
4) Add the butter and make a crumble out of the mixture and add water slowly and knead into a dough and make into equal balls.
5) Heat a wide mouth pan with enough oil to deep fry, once oil is hot simmer to low flame.
6) Take a clean Muruku maker, fill the muruku maker with the dough. Now press the dough directly in the oil, keeping a safe height from the pan.
7) Cook over medium flame, and make sure both sides are cooked well and are golden in colour. Remove from the oil and place it on a paper towels for excess oil to drain out.
8) Store in an airtight container, once it is thoroughly cooled.