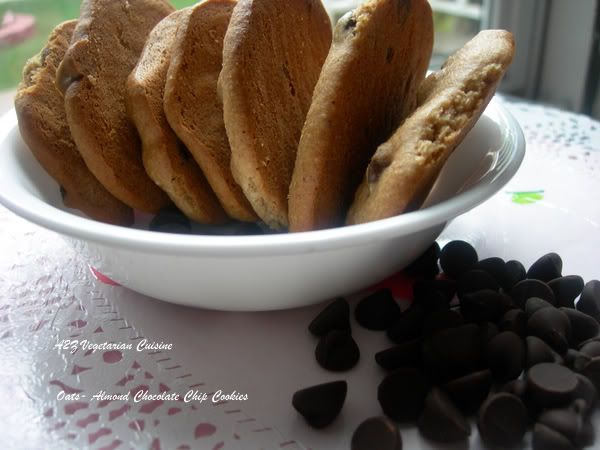 Know what you Eat
-
Almonds are low in saturated fat and contain many other protective nutrients - protein, calcium and magnesium - for strong bones, vitamin E and compounds called phytochemicals, which may help protect against cardiovascular disease and even cancer. Oats are an excellent source of iron, dietary fiber and thiamin. They also contain antioxidants that are believed to protect the circulatory system from diseases such as arteriosclerosis, which affects the arterial blood vessel.
Our doctor is a firm believer of the Atkin formula, he advises us to stay away from Rice and Wheat(even whole wheat) as they are fattening. He sketched out a diet plan for us which consist of Finger Millet(Reinventing the wheel), black chick pea, green mung bean and Quinoa. Our staple brown rice and whole wheat(even though i love them i use it occassionally now) has been taken over by other grain & beans in the past few years. Being the staples replaced, now i am slowly working on replacing wheat with other grains in my baking too. This is one such cookie and it gave me lot of satisfaction as it contains the goodness of Oats and protein rich Almonds. Almonds are concentrated in protein. A quarter-cup contains 7.62 grams-more protein than is provided by the typical egg, which contains 5.54 grams. I tried using Almond flour(my ultimate target) alone and the taste was unmatched, but they were lot crumbly.
Preparation Time - 10 mins
Cooking Time - 10-15 mins
Makes - 18 to 20 Cookies
Ingredients
Oats Flour - 2 Cups
Almond Powder - 1 Cup
Semi sweet Chocolate chips - 4 oz (1/2 cup)
Butter - 4 oz(room temperature)
Agave Nectar - 2 oz
Baking Soda - 1/4 tsp
Salt - 1/4 tsp
Vanilla extract - 1/2 tsp
Method
1) Preheat Oven to 350 degrees Fahrenhiet.
2) Sift Oats, Almond flour, Baking soda, salt and chocolate chips and set them aside.
3) Combine Butter and Agave nectar and then add the vanilla extract.
4) Now add the Oats-Almond mixture slowly to the butter and combine without any lumps.
4) Line a baking tray with parchment paper.
5) Take small out of dough, make a ball and flatten them using your hand and place it in the parchment paper.
6) Leave enough space as the cookies will expand while baking and bake for around 10-15 minutes till they are slightly brown and completely baked.
7) Cool them completely(this is must as they will be very crumbly even to touch) and transfer them to an airtight container. Great for kids as a guilt free snack along with some fresh fruits.
Note
- I have tried these cookies couple of times, it comes out very well. The consistency of the dough depends on the room temperature. Once i baked them on a very hot day and had to spoon the dough instead of flattening them, still it comes out well. I have tried the vegan version also with 1/2 cup of Canola oil and replacing agave nectar with 1/2 cup Maple syrup. With Maple syrup they are little bit on the crispy side.
Event Participation

1)This dish goes to
Just not any other dish
hosted by Dew drop in the Kitchen.
2)This dish a sure kid pleaser goes to
Kids Delight
hosted by Srivalli.
3)This dish goes to
Eggless Baking Event Using Oats
hosted by Madhu.
4)This also goes to
CFK-Chocolate
hosted by Hema started by
Sharmi
.