Know What You Eat:
Spinach and Garlic Pasta is super easy to prepare and it gets done in minutes. More on Spinach apart from a healthy greens it is good to clear up acne and maintain healthy skin, and it is easy to use spinach for acne treatment.Just blend the spinach with little water and apply it to your face as acne mask for 20 minutes. It will help your skin to remove dirt, oil, and inflammation. You will find that this treatment is really refreshing and rejuvenating.
Garlic:
"Garlic is a proven anti-oxidant". This property might help to prevent LDL (Low Density Lipo Protein) from being oxidized. In this way the cholesterol build-up that clogs the arteries could perhaps be reduced by garlic. If you have cold and flu, then take small amount of garlic every day until the infection disappears. Let's get back onto this recipe, I have used blanched and pureed spinach with lots of crushed garlic, basil pesto (optional), rennet & fat free Parmesan cheese and olive oil.Once the gray is ready just add your favorite wholewheat or multigrain pasta. Check the recipe..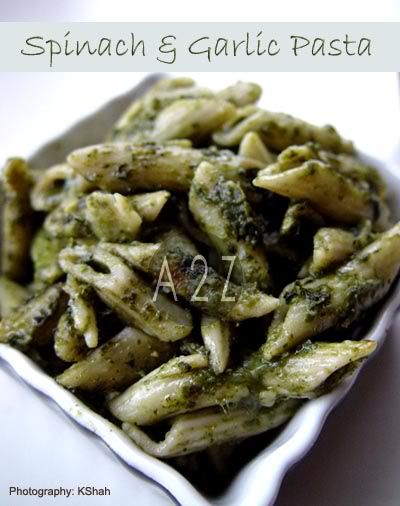 Ingredients:
2 C Cooked WholeWheat or Multigrain Pennette Pasta
1 C Spinach & garlic sauce* (check Notes * for recipe)
1 Tbsp Olive Oil
Salt and Pepper to taste.
Preparation:
Heat olive oil in a wok, add spinach and garlic sauce into it along with cooked Pennette pasta. Add Basil Pesto sauce (I used storebought) and stir.

Add salt and pepper to your taste. Serve Warm !!
Notes*
Prepare pasta according to the instructions on the pasta box.
For the Spinach & Garlic Sauce follow this recipe.
4 C Spinach, washed
8-10 cloves of garlic, peeled
1 Tbsp of Basil Pesto Sauce
1/4 C Fat and rennet free Parmesan Cheese
1 Tbsp Olive Oil
Preparation:
In a large pot bring water to boil. Add spinach and cook for 4-5 minutes. Remove and keep it aside. (if you want add this spinach in ice cold water to stop the cooking process, but it is not required in this recipe.)
Put spinach and peeled garlic along with some olive oil and cheese in a blender to make puree. Cook this puree with some olive oil in a wok for 5-6 minutes. Use this sauce for your favorite pasta.