Know What You Eat:
Green Beans & Dumplings curry is very popular curry in Gujarat. Dhoklis are nothing but dumplings made of various flours, which add body to subzis and enhance their taste. While dhoklis are traditionally made with besan, you can also exercise your discretion and choose other flours. Fansi dhokli is one such recipe that makes smart use of dhoklis, combining them with the goodness of french beans. When making dhokli, remember to one or two dhoklis to see if they turn out soft. Then add the remaining ones.
Ajwain
(Bishops Weed) in this recipe add lovely flavor and acts as good appetizer, laxative. It is used as effective remedy in managing ailments like vomiting, mouth diseases, pile, treatment of ascites, abdominal tumor, abdominal pain etc.
Green Beans / String Beans
, are Fat free, sodium free; cholesterol free; low calorie; good source of fiber; good source of vitamin C.Addition of Dhokli adds the protein content in this recipe. Here's how I made it.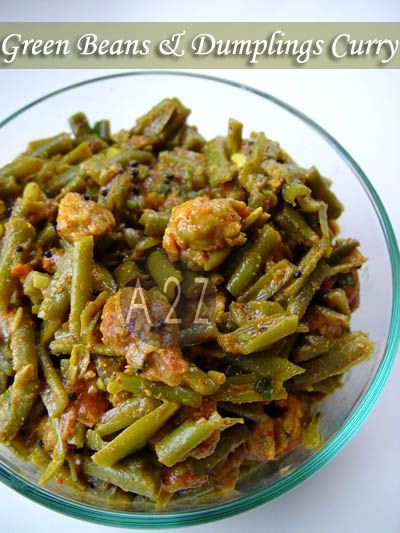 Preparation Time: 15 mins Cooking Time: 20 mins Makes 2 servings
For The Dhoklis
1 1/2 Tbsp Chickpea flour (besan)
1/2 Tbsp whole wheat flour
1/4 tsp red chilli powder
1/8 tsp Turmeric powder
1/8 tsp Aasafoetida powder
1 pinch Carom seeds (ajwain)
1/4 tsp oil
Salt to taste
Water as required
Other Ingredients:
1 C chopped french beans
1 tsp oil
1/2 tsp Carom seeds (ajwain)
1/8 tsp Asafoetida (hing)
1/4 tsp Chilli powder
a pinch Sugar / Jaggery
salt to taste
For The Garnish
1/2 tbsp Cilantro, chopped
Method:
For the Dhoklis
Combine all the ingredients in a bowl and knead into a semi-soft dough using enough water.
Divide the dough into 30 to 35 small equal portions. Press each portion with your thumb to make a uniform circular mini disks (dhokli). Keep aside.
Heat the oil in a non-stick kadhai / wok add the carom seeds and Asafoetida and sauté for a few seconds.
Add the french beans, 1 cup of water, chilli powder, sugar and salt and cook on a medium flame for 5 to 7 minutes or till the french beans are almost done, stirring occasionally.
Add the Dhoklis and simmer for another 10 to 12 minutes, while stirring occasionally.
Serve hot garnished with chopped Cilantro.