Know What You Eat:
What food is more synonymous with summer than freshly picked corn on the cob? You must be thinking why we talk about summer, when temperatures are below 50 degree F., well, instant mixed Corn Chaat is a healthy option for anytime snack, all the ingredients that are used in this recipe are most commonly found in your refrigerator, so why not enjoy this special corn chaat in any given weather..Corn fiber is one of the keys to its well-documented digestive benefits.Fiber and protein are key macronutrients for stabilizing the passage of food through our digestive tract. Sufficient quantity of this content in a food helps prevent too rapid or too slow digestion of that food. Different varieties of corn highlight different combinations of antioxidant phytonutrients. In the case of yellow corn, carotenoids lead the way and provide especially high concentrations of lutein and zeaxanthin. Lets talk about this recipe now, as I said almost all the ingredients are mostly found in your home, that I have used are cabbage, carrots, scallions, cilantro, lemon, and mint. You can use this recipe as a side dish, anytime healthy snack etc. Check the recipe below.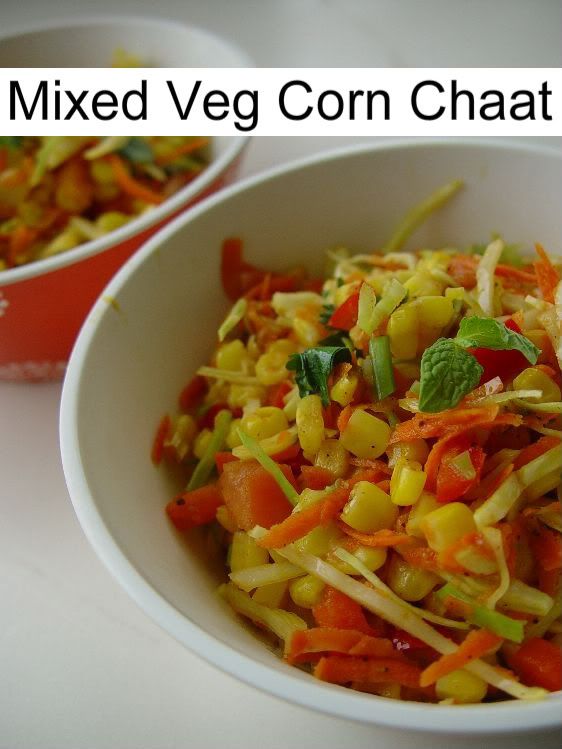 Ingredients:
2 C Fresh / Frozen Yellow Corn (Steam if using fresh corn until soft)
1 C Cabbage, shredded
1 C Carrots, shredded
1/2 C Scallion, (green+onion)
Juice of one lemon (adjust accordingly)
Freshly chopped Cilantro
Freshly chopped Mint
1 Tbsp Chaat Masala powder OR
1/4 tsp Black pepper powder
1/4 tsp Dry Mango powder
Salt according to your taste
1 Tbsp Butter / Olive Oil
Method:
Heat butter / oil in a wok, add thawed corn and let it cook for 2 mins.
Turn the gas knob to high, now add shredded cabbage, carrot, scallions, mint, chaat masala powder, salt and lemon juice according to your taste.
Saute only until everything is mixed well, remember do not over cook. This recipe calls for instant preparation so you can enjoy the crunchiness of the veggies added in here.
Garnish it with lots of chopped cilantro and serve warm.
There are endless combinations that you can add to this recipe, including your choice of shredded veggies, sprouted legumes, and combination of fruits and nuts, adding beetroots, toasted oats, etc and its very easy to assemble ready in minutes.
ENJOY!!!!