Know What You Eat:
Kaju Katli is an exotic dessert of Indian Origin. This dish has a long shelf life and is prepared on all important festivals and family functions, its similar to kaju barfi and made from cashews, sugar, cardamom powder and ghee. Typically cut into rhombus | diamond shape and covered with edible silver foil, varakh. Boxes of Kalu Katris are exchanged on festive occasions as a token of love and appreciation. Festivals like Diwali, Ganesh Chaturthi etc... are incomplete without preparing Kaju Katli. It is one of my favourite deserts and i can have one at any time. The one that I made is without ghee, prepared in a jiffy, and the easiest infallible recipe I have ever seen, made and tasted. Here's how I made.
~ * ~ A Very Happy Diwali to all my Friends and Readers ~ * ~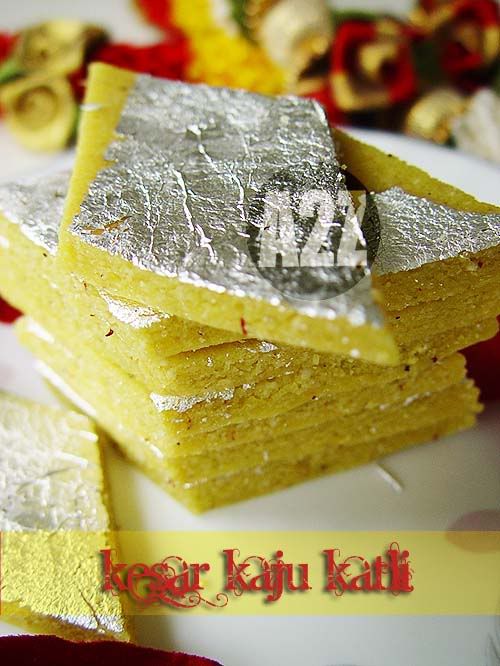 Recipe: No Ghee Kesar Kaju Katli

Ingredients
1 C Cashewnuts | kaju made into fine powder
1/2 C Non Fat Dry Milk powder, not for vegan version
1/4 C Sugar , I added a little less as we love the taste of cashew more than sugar
1 Tbsp Water, just enough to cover the sugar for sugar solution
1/4 tsp. elaichi powder(cardamom)
2 Pinches Kesar | Saffron strands
Silver Foil or Chandi Varakh (optional)
Just enough ghee to apply it on your palms and rolling board while rolling it.
Directions
Grind kaju to make fine powder. Sieve it if necessary. So with the sugar, grind into fine powder and sieve it if necessary.
In a non stick wok | kadhai, add sugar and just enough water to cover the sugar to make sugar solution. Put it on a high flame. Add Saffron strands at this time, stir it well and bring it to boil just enough for the bubbles to pop while making sure the sugar is completely dissolved.
Switch off the gas and add milk + cashew powder as well as cardamon powder, stir it very well until a mass or dough is formed just like chapati dough, that s the consistency you want.
Take it out of the kadhai, and leave it untouched for a while until you feel its warm enough for you to handle.
Apply ghee on your palms so the dough do not stick and becomes easy to handle.
Apply ghee on your rolling pin as well as on rolling board, or you can also use ziploc plastic bags on either side to roll it 1/4 inch thick.
Cut diagonal | kite shaped, with a pizza cutter you may also decorate with chandi warak (silver foil)
Leave it for an hour, to dry it for a while, for you to easily remove pieces and store it in an air tight container. Enjoyyyyyy!!!
This recipe also found at