Know What You Eat: Green smoothies are not only a unique color but they also offer unique health benefits. Made with natural coolers like bottle gourd, cucumber, and leafy greens spinach and kale that are loaded with antioxidants and vitamins, prevents bladder cancer, and reduce the risk of ovarian cancer. Green smoothies are a great source of non-dairy calcium, magnesium and Vitamin which makes it excellent way to enjoy a delicious drink that satisfies hunger and offers maximum nutrition. You may think that turning leafy greens into a smooth, sweet and tangy delicious drink can be a bit of a challenge—and it is.. but trust me when I made this smoothie, it was all gone in a jiffy.It also act as stomach cleanser. So what goes in this GREEN Smoothie..Lets count on..Spinach, Kale, Bottle Gourd, Cucumber, Celery, Ginger, Lemon Juice & Gooseberry Juice | Powder | Frozen gooseberries with just a little honey, salt and a dash of black pepper.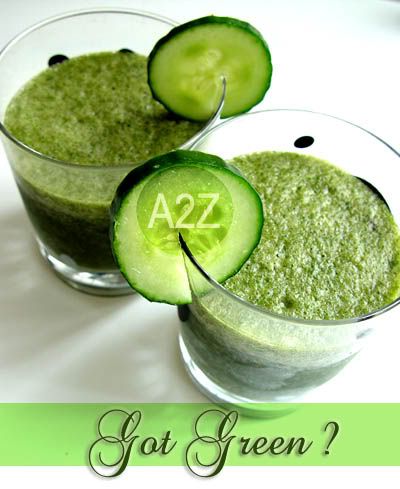 Recipe: Green Smoothie | Nutrition Powerhouse
Serves : 2 Preparation time : 7min Cooking time: N/A
Ingredients
2 C Fresh Spinach, washed

2 C Kale, washed

2 Cucumbers, washed with skin

1 Small Bottle Gourd, washed with skin

1 inch piece Ginger, washed & diced

1/4 C Frozen | Fresh Gooseberries OR

2 tsp Gooseberry (amla) powder, available at any Indian grocery store

Some Fresh Mint leaves (optional)

Juice of 1/2 lemon, (add according to your taste)

Salt and Black pepper to your taste.

1 Tbsp Honey

Filtered Water and Crushed Ice as you need them.
Preparation
Wash thoroughly all the your greens. Usually I soak all my veggies and fruits in sink full of water and leave them for 15-20 mins.

Remove them, dice, chop all that will go in the blender along with some ice & filtered water, salt, honey, lemon juice, dash of black pepper.

Blend it until you get a very smooth puree kind of consistency.

If you want juice with no pulp at all, you can use a cheesecloth or a coffee filter to further strain juice after it goes through your juicer | blender. As a final juicing tip, consider that the softer the fruit or vegetable, the thicker the juice will be so go ahead add filtered water or apple juice as per needed.

Enjoy freshly squeezed juice with crushed ice.