Know What You Eat: Get the sweet and tart taste from this lovely combination of Pineapple and Orange freshly squeezed juice with goodness of ginger. Addition of ginger for its anti-inflammatory, carminative, anti-flatulent and anti-microbial properties.
Fresh pineapple is storehouse of many health promoting compounds, minerals and vitamins that are essential for optimum health.It also contains a proteolytic enzyme

bromelain

that digests food by breaking down protein. Bromelain also has anti-inflammatory, anti-clotting and anti-cancer properties. Studies have shown that consumption of pineapple regularly helps fight against arthritis, indigestion and worm infestation.Its rich in
B-complex group of vitamins like
folates
, thiamin, pyridoxine, riboflavin and minerals like
copper
,
manganese
and potassium.
Orange
Citrus fruits, as such, have long been valued for their wholesome nutritious and antioxidant properties, oranges, by virtue of their richness in vitamins and minerals, have many proven health benefits and biologically active, non-nutrient compounds found in citrus fruits such as
phyto-chemical antioxidants
,
soluble
and
insoluble dietary fiber
have been found to be helpful in reduction in the risk for cancers, many chronic diseases like arthritis, and from obesity and coronary heart diseases.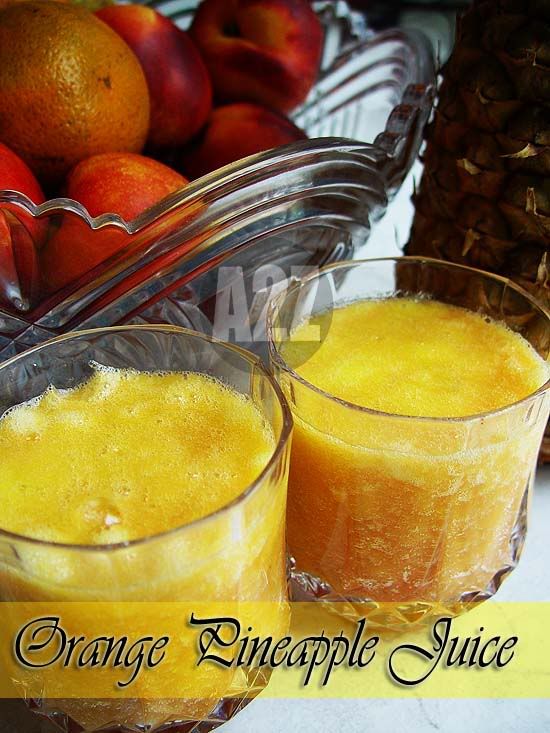 Recipe: Freshly Squeezed Orange Pineapple Juice
Preparation time: 10 mins, Servings: 2 - 4
2 C Pineapple chunks, freshly cut + 1/4 C extra
1/4 " Ginger,washed and peeled
1 Tbsp Honey | Xylitol (optional)
Black pepper powder (optional)
1.
Wash your fruits well before juicing. Remove the peels from pineapple and oranges