Know What You Eat:
I always refuse to give store bought Maple syrup (that sweet little lady bottle) when it comes to top pancakes, ice creams, pies..WHY??? Have you ever read the ingredients list..if not here it is..
.

..INGREDIENTS: CORN SYRUP, HIGH FRUCTOSE CORN SYRUP, WATER, CELLULOSE GUM, CARAMEL COLOR, SALT, SODIUM BENZOATE AND SORBIC ACID (PRESERVATIVES), ARTIFICIAL AND NATURAL FLAVORS, SODIUM HEXAMETAPHOSPHATE. This already sounds like a DANGER to me Yeah, my thoughts exactly.
So in an effort to not use these easily available fancy sauce/syrups stash .I have decided to stretch a small amount to produce a delightful and healthier syrup for my kids. I call this a strawberry sauce, because it is not thin and runny like a syrup. It has a chunkier more organic texture.
Many of us do not realize how easy it is to make strawberry sauce at home with minimal, almost available ingredients in our pantry..Of Course you need strawberries...Use fresh when in season, and frozen also tastes equally good..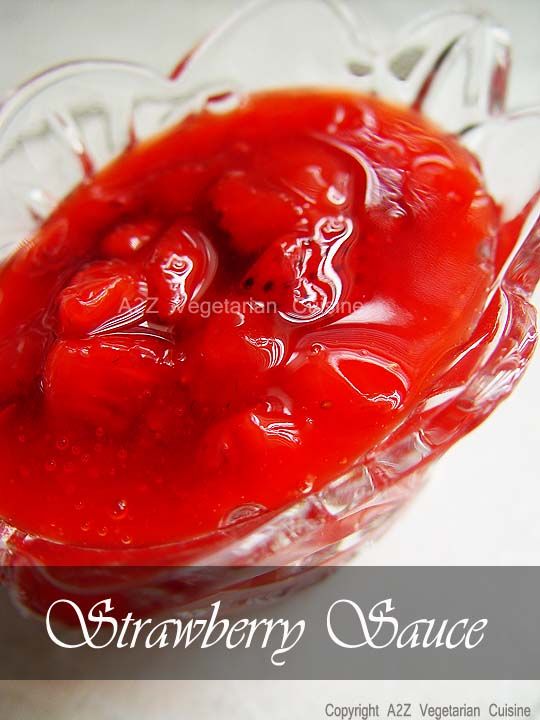 Recipe:
Homemade Strawberry Sauce
(C= Cups, Tbsp= tablespoon, tsp= teaspoon)
Prep time: 10 mins Cook time : 15 mins
Ingredients
8 C Strawberries, hulled

1 C Raw Sugar (adjust the quantity depending on sweetness of berries)

1/2 tsp Vanilla Extract (optional)

1 C Water

A pinch of Salt
Method:
Combine all the ingredients except vanilla extract (optional) in a saucepan over medium-low heat, stir gently until sugar dissolves and berries gets soft, about 15 mins.

Remove from heat, allow to cool down completely and add vanilla extract.

Mix it well and bottle it for later use.
Where Can You Use Strawberry Sauce:
Make a great drizzle for fresh fruit salad

Topping for waffles

Spoon on top of Cereal

Use to make healthy strawberry milkshake

Ice cream topping

Cheesecake topping

Makes a great dip for your favorite fruits as well.