Know What You Eat:
A delicious spicy highly addictive relish to use with any kind of paratha, roti, rice, Quinoa Instant Raw Mango Pickle - made in a jiffy and can be used for about a month. Pickle masala | mixture is readily available in the market too, but I prefer to use homemade. I pre make this mixture using olive oil and keep it for a year long using the same mixture to make instant pickle out of Jalapeno peppers, Green peppers, Granny smith apples, carrots, & cranberries..and enjoy year round.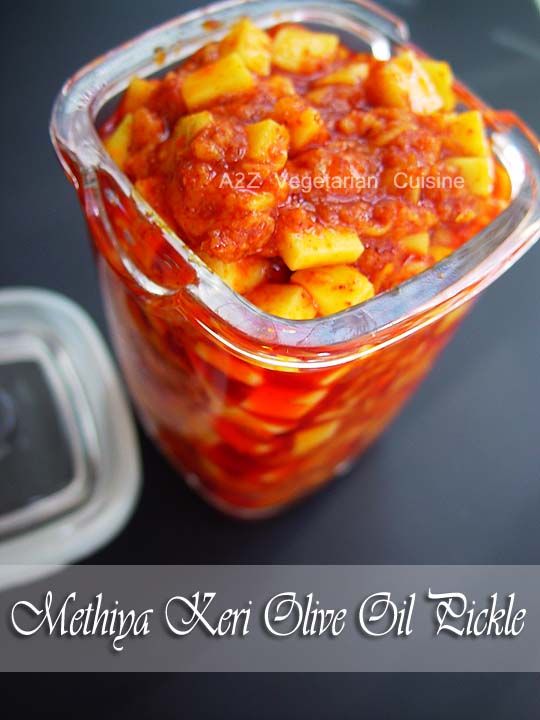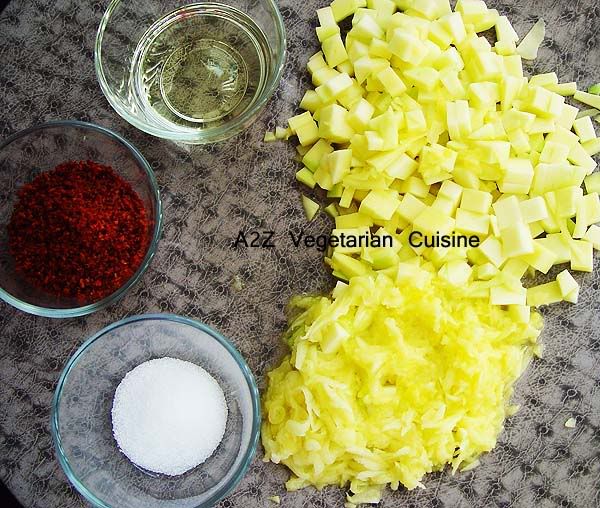 Recipe: Instant Methiya Keri Olive Oil Pickle |
Instant Raw Mango Fenugreek Flavored Pickle
INGREDIENTS
1lb (approx.500 gms) Raw firm mangoes, chopped 3/4 mango in chunks,shred the rest
Salt as per taste + more for preservation
1 tsp Asafoetida (Hing)
3 Tbsp Red chili powder (as per taste)
3 Tbsp Crushed mustard seeds, coarsely crushed
3 Tbsp Fenugreek seeds, coarsely crushed
1 C Olive | Sesame oil
1/4 tsp Citric Acid (preservative)
METHOD
Chop Mangoes. Keep aside.
In another bowl mix mustard seeds + fenugreek seeds, red chilli powder, salt, & asafoetida.
Heat oil very well till smoky. Let it cool and pour over this mixture.
Add mangoes to this mixture so all chunks are coated with the masala once it cools down, Combine it well. Check for salt, I usually add more salt than my taste limits as its the best preservative (more than a tablespoon)
Add citric acid, mix it well.
Transfer to a clean jar and press down lightly.
Allow it to marinate about 1 day.
Take out in small quantities for use in a small glass jar.
Since this is the fastest way to mango pickle, it stays good in refrigerator more than 3-4 weeks.

Note: I use the same method to make instant pickle out of green bell pepper, Grannysmith apple, cranberry & carrots.