Know What You Eat: Want to loose weight without STARVING?????....Feel fuller faster on a hectic morning schedule, then this is "the all in one smoothie" you can prepare in minutes, gives you a full serving of fruit, fiber, calcium along with some crunch....and essential omega 3's..makes your heart, stomach and mouth all HAPPY.. Addition of Chia seeds when exposed to water, it forms a coating of gel, increasing its size and weight. Since the gel is made of water, it has no calories, meaning that it helps your body think it is full, without adding calories! !!!
Note for diet watchers.

.

.Well, Mango can be replaced with other fruits like peaches,berries,apple etc which has lower calories and less natural sugar..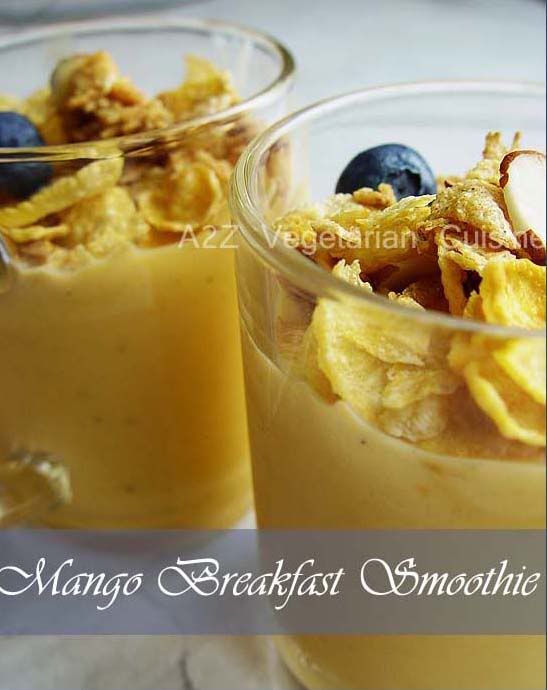 2 C Skimmed / Low-fat Milk
1 C Ripe Kesar Mangoes, chopped
2 tsp Chia seeds/Gel(soak in 6 tsps water and let it sit for few minutes)
1/2 C Post Honey Bunches of Oats(reduced sugar) breakfast cereal
1 Tbsp Honey/Xylitol (Mango was sweet so I did not added )
Few Blueberries (optional)
A pinch of Cardamom powder
1.. Blend in all the ingredients except the oats cereals along with some crushed ice in a blender.
2.. Top it with honey bunches of Oats or your favorite cereals and serve immediately.