Know What You Eat: Cabbage provides you with this cholesterol-lowering benefit whether it is raw or cooked. When it comes to Cancer, cabbage stands above all because of its unique three different types of nutrient richness found in this widely enjoyed food and they are (1) antioxidant richness, (2) anti-inflammatory richness, and (3) richness in glucosinolates means

anticarcinogenic. Cabbage Peas stir fry is a quick to make stirfry and goes well with parathas (Indian flat bread).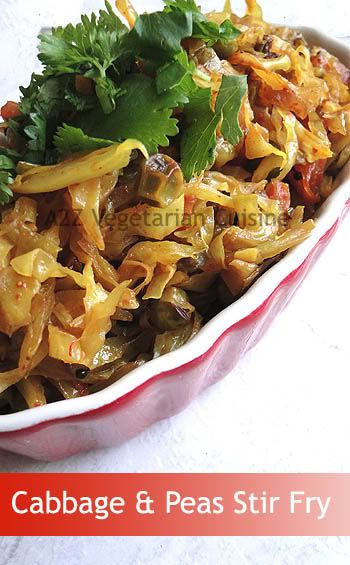 Ingredients:
2 C Cabbage, shredded
1/2 C Peas
1 Tomato, medium
1/4 tsp Mustard seeds
1/4 tsp Cumin seeds
Cilantro for garnishing
Asafoetida, a pinch
Spices:
1 tsp Garam Masala powder
Sugar to taste (optional)
Method:
1.. Heat oil in a wok, splutter mustard seeds, add cumin seeds, hing, cabbage, peas, tomato and rest of the spices.
2.. Combine it well, and cook for next 5 mins.on high heat ...thats it the stirfry is ready to serve.