Know What you Eat: When it comes to ordering pizza from outside, THOUGH it is cheap, I still think homemade whole wheat pizzas adds a full earthy flavor, nutrients and good texture to it, where you can also control the type and amount of cheese and veggies to top it. Of course whats better than a homemade pizza for your family that can be enjoyed guilt free. I added whole wheat along with some white flour and cornmeal for that crunchy texture as adding just or too much of whole wheat can sometimes overpowers the pizza taste entirely. Toppings are little unusual but absolutely yumm & healthy for my family can be altered as per choice. Check it out..

Ingredients For Pizza Dough: 1 C= Cup, 1 tsp= teaspoon, 1 Tbsp= tablespoon
1-1/2 C Whole Wheat Flour
1/2 C Bread / Self raising Flour
1/3 C fine semolina or yellow cornmeal
1 Tbsp active dry yeast
1 tsp. sugar
1 1/2 C lukewarm water (110 degrees F/45 degrees C)
1 tsp salt
1 Tbsp Honey
1 Tbsp Olive/Canola Oil
1/2 C unbleached white flour (for rolling)
1/2 to 1 tsp. red pepper flakes (optional to taste)
1 tsp Dry Oregano leaves

Directions:
1. In a small bowl, add sugar lukewarm water and dissolve yeast. Let stand until creamy, about 10 minutes.
2. In a large bowl, combine whole wheat flour, olive oil, salt and the yeast mixture; knead/stir well to combine.
3. Beat well until a stiff dough has formed.
4. Cover with plastic wrap or a kitchen towel and let rise in a warm place for 45 minutes or until dough has doubled in bulk.
5. Punch down dough and transfer to a floured board and knead briefly. Divide dough into 3 equal portions and roll each piece into a ball.
6. Meanwhile, preheat oven to 300 degrees F.for partial baking, getting the pizza-base ready.
7. On a floured board roll and stretch each piece of dough into a 5 to 6-inch circle. I like mine thinly rolled. Place each circle on a wooden pizza peel or pizza pan or stainless steel dishes as I did. Bake untill 15-20 mins, untill light brown. Remove at this point of time, let it cool and you can use now or store this pizza base for future use, in your freezer section.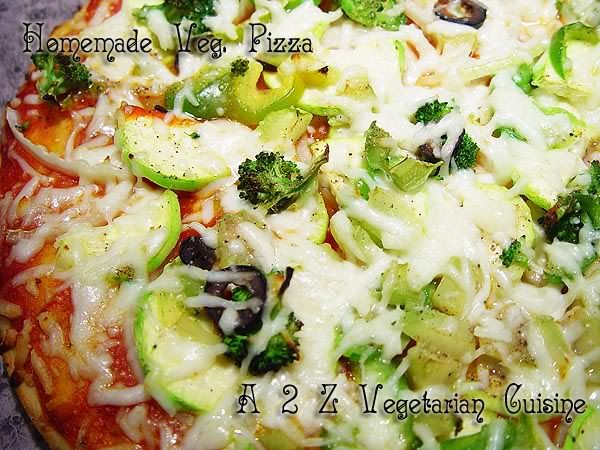 Pizza Sauce Homemade/Store bought:
3 C Tomato Puree
1/2 tsp salt
1/2 tsp sugar
1 tsp dried oregano leaves
1/4 tsp black pepper pwd (optional)
1/2 tsp red pepper flakes (optional)
1 Tbsp Light vinegar

Combine all together in a bowl. Set it aside.



Toppings:


Once the base is ready, you need to slice all your favorite veggies, and saute for 2 mins on high flame with some olive oil in a wok. I added,
Onions
Bell pepper red/green/yellow
Olives
Broccoli florets
Pineapple
Jalapeno
Mushroom & sun dried tomatoes (optional)
2 C Shredded Vegetarian Cheese (No animal rennet/enzymes)



Assembling:


1. Preheat the oven to 450 degrees F.
2. Place the pizza base on pizza pan, cover it with your favorite pizza sauce or sauce recipe given above, layer it with your favorite semi-cooked veggies and of-course light cheese.
3. Bake it for about 15 mins and enjoy thin crust well done whole wheat veggie delight pizza guilt free...yeah thats my way of enjoying pizza.