Very easy to make, great for morning breakfast as well as for the evening tea or anytime
snack/lunch. You can add only potatoes/onions or tomatoes /combination of all the 3,carrots, bell peppers, cashew, raisins to make it more healthy according to your taste. For now enjoy this...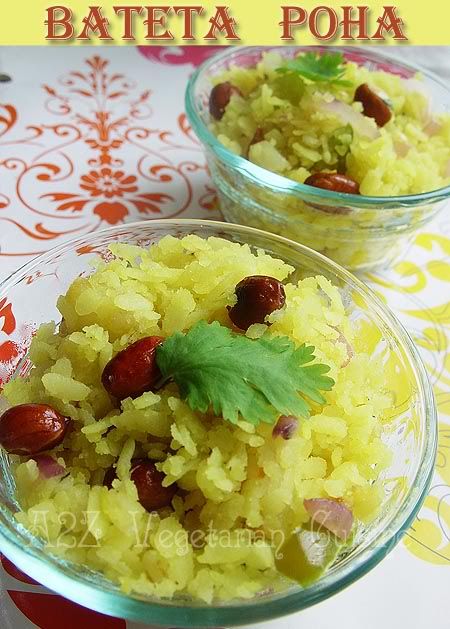 Preparation Time : 10 mins.
2 C thick beaten rice (thick poha, easily available at Indian stores)
1 medium potato, finely chopped
1 medium onion, finely chopped
3 to 4 green chillies, slit
1/4 C roasted peanuts/cashew
1 Tbsp fresh coconut, grated
1/4 C cilantro, finely chopped
Handful of raisins, yellow
1. Place the poha in a sieve and hold it under running water for a few seconds. Toss well
to drain out all excess water and keep aside. In another 10-mins add salt, sugar &
turmeric powder. Toss well.
2. In a wok heat oil, add mustard seeds wait untill it splutters, add cumin seeds, roasted
peanuts, green chillies , ginger, garlic and curry leaves, potato & onion. Cover with lid if neccessary, let
the potatoes cook in its own steam until they are soft.
3. Now add poha & lemon juice and mix well. Add a tbsp of water/milk at this point of
time, if the poha is too dry.
4. Serve hot garnished with the grated coconut, raisins and chopped coriander.
Note:

For later usage, always add little water cover with lid and warm up in microwave
HIGH for 2 mins.