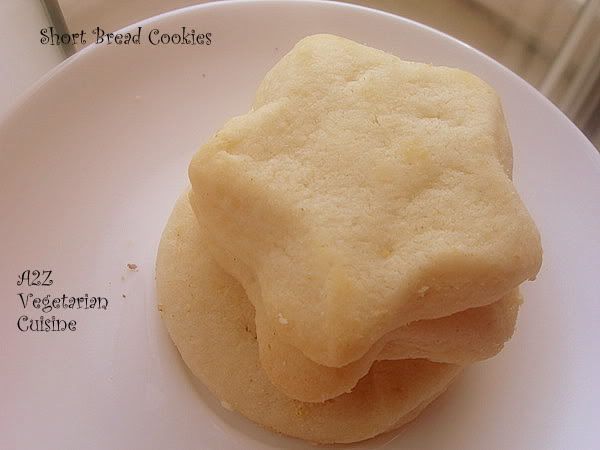 Know what you Eat
– Melts in your mouth and not from your body.
Short bread cookies are one of the easiest and no fail cookies that can be made real quick and
also they taste really awesome (why not Sugar, Butter and Flour no doubt will give a awesome
taste). I am not a kind of person who hates all these sinful goodies, i doubt any body would as
they taste really great. That is precisely the reason i don't make them, even if I make, i don't keep
them but distribute. I made batches of these last holiday season to be packed in gift boxes for
the school.
I don't tempt people with something which is not part of their diet. So for people who don't have any dietary
restrictions these cookies were sent and for people who are on a whole grain diet i packed
my favorite
Ginger Bread Cookies
and for people who avoid gluten and sugar i packed boxes of
Home Made Truffle
.
Preparation Time – 15 Minutes
Cooking Time – 15 Minutes
Makes – 2 Dozen
Ingredients
All Purpose Flour – 2 Cups
Salt – 1/4 Tsp
Unsalted Butter – 2 Sticks (1 Cup – softened to room temperature)
Powdered Sugar – 1/2 Cup
Vanilla extract – 1 Tsp
Method
1) In the bowl cream the butter and sugar until smooth.
2) Add the vanilla extract and combine.
3) Now slowly add the flour until well mixed.
4) Preheat oven to 350 Degrees Fahrenheit.
5) Line two cookie trays with parchment paper.
6) On a lightly floured surface roll out the dough into two thick logs.
7) Cut into rounds and then cut into desired shapes using a cookie cutter.
8) Place it in the baking sheets and bake for 10 minutes until cookies are very lightly browned.
9) Cool in a wire rack.
Note
– You can also refrigerate for 10-15 minutes the cookie tray after cutting
out the cookies. This will make the dough to become firm and retain the shape after baking.