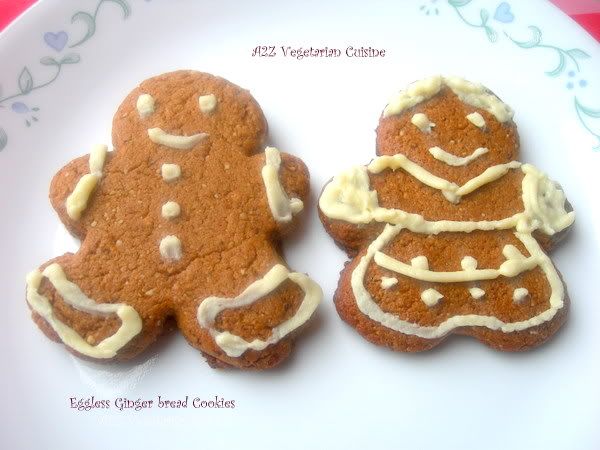 Wishes for a very Happy, Healthy New Year 2010.
Know what you Eat
- Almonds are low in saturated fat and contain many other protective nutrients - protein, calcium and magnesium - for strong bones, vitamin E and compounds called phytochemicals, which may help protect against cardiovascular disease and even cancer. Oats are an excellent source of iron, dietary fiber and thiamin. They also contain antioxidants that are believed to protect the circulatory system from diseases such as arteriosclerosis, which affects the arterial blood vessel.
My kids love cookies, but one thing which scares me is the increased chance of cavities apart from all the other health problems when consuming refined sugar. This is one more experimental attempt by me to create a nutritious cookie without any refined flour, and by adding maple sugar, molasses and using xylitol(for icing) in place of refined table sugar. This was a sure hit among mine as well their friends.
Preparation Time - 15 mins
Cooking Time - 10 to 15 mins
Makes around 6 to 8 cookies
Ingredients
Gluten Free Oats Flour - 1 cup
Almond Flour - 1/2 cup
Clarified butter(ghee) - 1/8 cup
Honey - 1/8 cup
Molasses - 1/8 cup
Baking powder - 1/2 tsp
Grated ginger - 1 tsp
Cinnamon powder - 1 tsp
Salt - 1/4 tsp
Method
1) Combine the Oats flour, Almond flour, salt, cinnamon powder and baking powder.
2) To this add clarified butter, honey, molasses and grated ginger.
3) Roll the dough and take a small ball and flatten it.
4) Using a cookie cutter cut out the desired shapes.
5) Pre heat an oven to 350 degrees Fahrenhiet.
6) Line a cookie tray with parchment paper and bake the cookies for 10-15 minutes till they are fully baked.
7) Once the cookies are well cooled stored in an air tight container.
For the icing
Cream Cheese - 2 Tbsp(Organic without animal rennett)
Butter - 1 Tbsp
Xylitol(powdered) - 2 tsp or to your taste
1) Beat the cheese and butter, to this add xylitol.
2) Fill a ziploc with the icing and decorate the cookies.
Event Participation
1) This goes to the
Cakes & Cookie event hosted by Mahimaa .
2) This goes to the
Oats Feast
&
Cakes-n-Cookies
events both hosted by Sara's Corner.
3) This goes to
It's time to Jingle hosted by Asankhana
.