Know What U Eat: A family of functional proteins from yellow peas delivers unique nutritional value and excellent functional properties. With 85% protein and a rich amino acid profile, naturally is highly digestible (98%), all-natural. A very easy to make traditional maharashtrian Usal Pav..enjoyed by everyone in a quick dinner idea, with a little planning and less cooking involved, semi - homemade products used, makes this a very delicious side dish enjoyed with your favorite bread. A Very Happy Women's Day - to all our readers..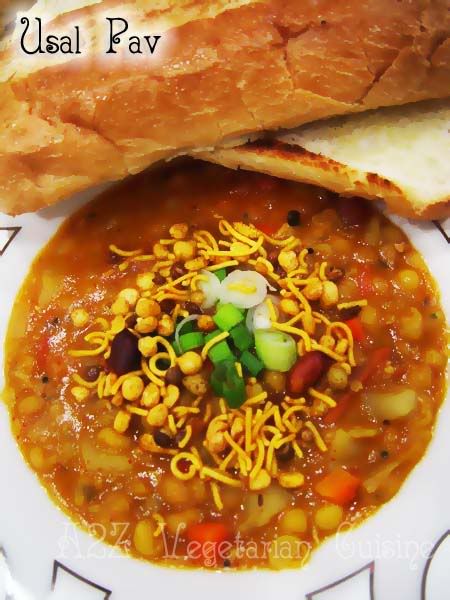 2-4 Pav (Your Favorite Buttered Bread)
1 C Yellow peas, soaked & boiled,
2 pods of Garlic, chopped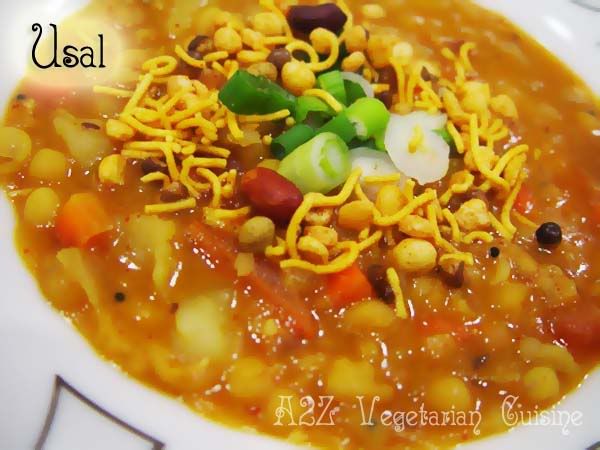 1/4 tsp Red chilli pwd (adjust acc. taste)
2-3 pinches of Turmeric pwd
For Tempering:
1 tsp of Date & tamarind chutney / Cup
Scallions, finely chopped
1 Tbsp of Farsan / Cup (mixture of sev, peanuts, fried split dal etc)
1. Soak yellow peas, for atleast 5 hours, pressure cook it for upto 3 whistles or untill boiled.
2. Chop onion, tomatoes, garlic, heat oil in a vessel, add mustard seeds, as it splutters add cumin seeds, asafoetida curry leaves and onion. Cook untill onion becomes translucent. Now add ginger & garlic. Saute for a minute.
3. Add chopped tomatoes, stir- cook for a while, add all the spices, salt according to your taste.
4. Add boiled peas + water, bring it to a boil.
5. Add lemon juice and chopped cilantro.
1. For each person, In a separate bowl, add this peas gravy and garnish it with farsan (Sev-mixture), chopped onion/scallions, some lemon juice with sweet date & tamarind chutney.
2. Enjoy it with Warm buttered Pav (your favorite bread)
Usal Pav goes to "The Combo Event", hosted by Pari