Know What U Eat:

Multi grain savory pancakes, is good anytime of the day, have it in your breakfast or a healthy snacking idea..high in protein, low in cholesterol, low in fat, gluten free, and a very good diabetic diet. Goes to the pancake event, hosted by Priya. & it goes to

JFI-Breakfast

guest hosted by Suma of Veggie Platter, event by

Indira

...
1 C Yellow corn (makkai) flour
1 C Pearl Millet (bajra) flour
3 Cloves of Garlic, minced
1 inch Ginger, finely chopped
4 Thai green chillies, finely chopped
1/2 C Fresh Cilantro, finely chopped (optional)
1 C Yogurt + little water to bind dough,
2 Tbsp of Oil + extra shallow frying/spray
1/2 tsp Black pepper powder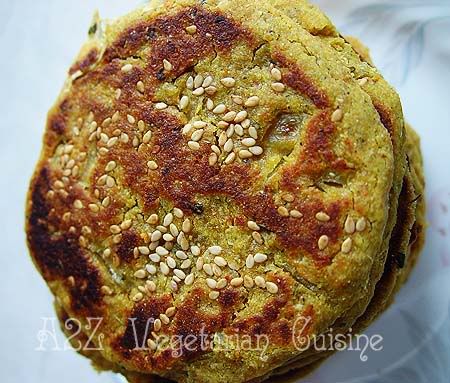 1. Mix everything in a huge bowl. Make 18-20 equal portions. Set aside.
2. On a plastic sheet, spray some oil, take one portion and tap it with wet hands to make thick disc (circles 2-3" in diameter). Lift other end of that plastic, in such a way that the disc easily comes out on your hand. drop/press some sesame seeds on the top.
3. Place this disc on hot griddle, and cook both the sides, just as you would do in pancake. Spray some oil, to make it golden brown.
4. Serve warm with ketchup, or cold with tea/coffee.