Turmeric Fenugreek and Dry Ginger Powder Remedy: All are 3 aces of Ayurveda....Lets talk about some important health benefits using this herbal powder when consumed empty stomach. I consume on daily basis, although its upto individual to start her/his daily dose. This article is for general information only and should not be taken as medical advice. Consult your medical doctor to see if this will work for you. Personally I feel ayurvedic medicines like these are safe to consume & have minimal or no side effects as such.
Fenugreek Seed/Powder:

..There are tons of health benefits of fenugreek,just to mention a few..
It works as blood purifier; the powdered seeds help in flushing out accumulated toxins out of the system and initiate natureal detoxification of body. It is one of the brain coolants and natural memory booster.
Fenugreek seeds are excellent herbal remedy for reducing bad cholesterol from our body; its is immensely beneficial in herbal treatment of diabetes as it controls the problems of excess sugar in blood and urine.
The patient of diabetes or cholesterol should consume a concoction made of fenugreek seeds in powdered from and lukewarm water, overnight water soaked fenugreek seeds by chewing is also a alternative home care treatment for diabetes control.
Water soaked fenugreek seeds, when chewed in empty stomach, control the intensity of appetite due to its natural fiber content. Thus it works as an excellent herbal tool for weight loss.
Turmeric offers many benefits to skin, because it is natural, it is used safely in many cosmetics and skin care remedies. The use of turmeric improves overall skin health and helps to protect the skin against disease and other skin conditions.
Skin Conditions: Turmeric is a natural healer for skin conditions such as eczema, acne, dry skin and psoriasis.
Anti-Aging Benefits: The use of turmeric in cosmetics and skin care products helps to naturally slow the appearance of aging and restore youth. Continued use decreases the formation of deep creases and wrinkles.
Cold/Cough: Turmeric is sometimes used in natural cleansers, such as a mixture of turmeric powder and milk. We did talked about this remedy in our earlier post, check out here.
Overall Skin Care: Turmeric can help to improve overall skin care. Washing with a cleanser that contains turmeric will reduce hair growth and give the skin a healthy glow.
One type of turmeric face mask includes honey. To make it you need to combine 2 tbsp. honey, 1/2 tbsp. lemon juice and a pinch of turmeric. Mix well, then apply to the face and leave on for 30 minutes. Rinse well with lukewarm water.
Dry Ginger powder:

Is mostly beneficial, in motion sickness, nausea,antiviral, antioxidant, alcohol withdrawal, elevated cholesterol problems, painful menstruation, migraine headache, low blood pressure, reduce flatulance.. to name a few...Although it is too early to tell if ginger will benefit those with heart disease, preliminary studies suggest that ginger may lower cholesterol and help prevent the blood from clotting. Each of these effects may protect the blood vessels from blockage and the damaging effects of blockage such as atherosclerosis, which can lead to a heart attack or stroke.
Chemotherapy nausea:

Evidence from a few studies suggests that ginger reduces the severity and duration of nausea (but not vomiting) during chemotherapy. More research is needed to confirm these results and establish safety.
Here's how to make this multi ailment home-made herbal powder.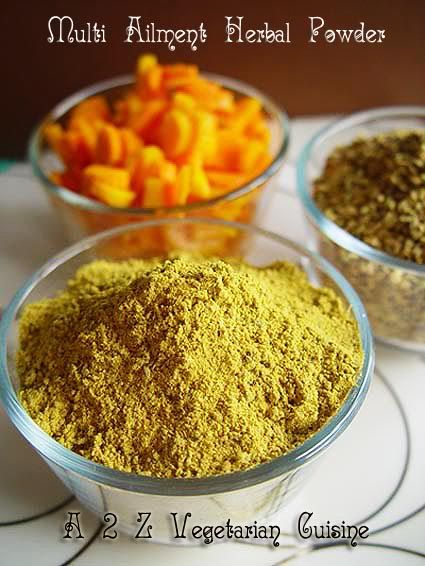 1/2 C Fenugreek seed powder
3/4 C Dry ginger powder (If this quantity feels more spicy, reduce to your needs)
Method:
A. Mix everything and keep it in air tight glass container/ bottle.
B. 1 tsp of this mixture with warm water every morning empty stomach..
Event Participation:

This multi ailment home remedy goes straight to our event "Home Remedies Series 1" held here on this blog.