Fresh Salsa is super favorite in my family, we enjoy it with chips, burritos, wraps..to name a few..and adding fresh fruits like pineapple, apple, mango, peach, makes it even more tastier...with all the goodness of fresh fruits...

Know What you Eat: Pineapple is Beneficial in the following condition :

It is regulates the gland and found to be helpful in cases of goiter(enlargement of the thyroid gland).

Dyspepsia (chronic digestive disturbance).

Bronchitis (inflammation of the bronchial tubes.)

Catarrh (secretions from mucous membranes).

High Blood pressure.

Arthritis (diseases of the joints)

Fresh pineapple juice is also used in removing intestinal worms.

Fresh pineapple juice has been used to combat diptheria and other infections of the throat or other parts of the body.

Prevents nausea (includes morning sickness and motion sickness), Take 230 cc. of pineapple juice or papaya juice.

Constipation
For now enjoy the fresh Pineapple Salsa...here's how you make it..

Ingredients:

1 C Fresh Pineapple, diced small (canned pineapple can also be used)
2 C Fresh Ripe wine tomatoes
1 Onion, red or yellow
1/2 C Fresh Cilantro, chopped
3 small Indian green chili OR 1 jalapeno pepper,chopped
1/2 tsp red chili powder OR 1/4 tsp Black pepper powder
2 pinches of Sugar
Salt to taste
2 Tbsp Distilled Vinegar / fresh lime juice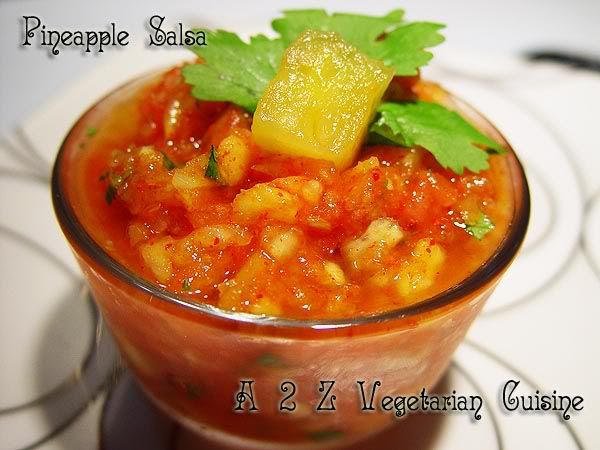 1. Throw onions, green chillies, and chop in food processor using pulse setting for 3-4 times untill they are evenly chopped. Remember do not make a paste...then put tomatoes, pineapple and rest of the ingredients, again chop evenly using pulse. to keep it chunky.
2. Serve freshly made chunky pineapple salsa with your favourite chips.
This salsa goes to
Think Beyond the Usual Fruit
, hosted by Nithu.
,