Know what you Eat - Gulab jamun is a milk based sweet deep fried and soaked in sugar syrup.This month's challenge in the ICC was really very tempting to try and it was the best Jamun i ever tasted. They were sinfully delicious and it was difficult to resist. I had to quickly pack up and distribute it to all our friends for Diwali, since i didn't have that much will to shy away from these sinful sweet balls. Now coming to the recipe it is divided in three parts, one is making the Khoa/Maawa, making Jamuns and frying them and the third is sugar syrup. Check out here for making the Maawa step by step and check here for the original recipe . Also check out our version of making Gulab Jamun from scratch in a very easy way.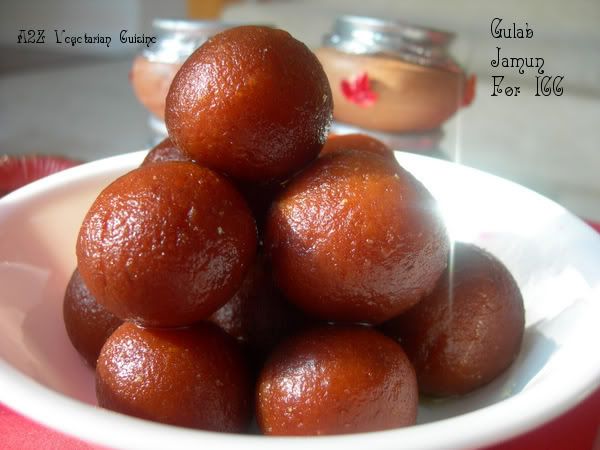 For Khoa
Use 6 cups of milk (1 & 1/2 litre) to get 1 cup of unsweetened Khova.
For sugar syrup:
Ingredients:
Water - 1 & 1/2 cup (bit more or less)
One spoon of milk (optional)
Few threads of saffron (optional)
2-3 drops of rosewater (optional but highly recommended)
Method:
1) Mix about 2 cups of white sugar in one and half cup water and leave it for boiling.
2) Add a spoonful of milk to remove the impurities (impurities if any, will form a scum on surface).
3) Add 2-3 green cardamoms also in syrup for strong flavor, and a few strands of saffron strings.
4) Boil until you get just a sticky syrup. The syrup should neither be too thick nor too diluted. If the syrup is very thick, it won't be absorbed by the Jamnu.
5) Strain the syrup, add few drops of rosewater when syrup is slightly cooled. Adding rosewater to boiling syrup & excess of rosewater will turn the syrup bitter.
For Gulab Jamun:
Ingredients
Unsweetened Maawa* - 1 Cup
All purpose flour - 1 Tsp
Green cardamom - 1-2 crushed
Method:
1) Mix all the ingredients in a wide mixing bowl until soft textured dough is obtained (keep mixing until it is really soft)
2) Make very small sized balls (bit larger than pebbles) as they swell up after frying and soaking in syrup
3) Make sure that the surface of dough balls is really smooth without any cracks. In case the cracks refuse to go away, slightly wet your palms with water and roll the flour till absolutely smooth. If the balls burst open while frying add a tsp of cornflour and knead the dough once again.
4)Now heat ghee for frying in preferably flat bottomed pan and make sure to fry the gulab jamuns in LOW FLAME or else the surface will be browned while the core will remain uncooked.
5)Fry one or 2 gulab jamuns at a time and always remember to stir the oil with slotted spoon and not to touch the jamuns(which might crack open or break them), which means keep swirling the oil without tossing or turning gulab jamun.
6) Fry till light brown in colour, remove on tissue paper and repeat the procedure with rest of dough.
7)Now soak these in COOL syrup for few hours and the jamuns will swell up by absorbing the sugar syrup and leave them in the sugar syrup itself till they are used up.